When you think of people and their knives, who is the first person that comes to mind?
Is it Jim Bowie, the 19th century American pioneer, who played a prominent role in the Texas Revolution and became famous for his use of a large knife at a duel known as the Sandbar Fight?
Or do you think of Paul Hogan, who played the part of the knife-carrying Australian bushman known as Mick "Crocodile" Dundee?
Perhaps the most well-known knife collector is Angelina Jolie. Numerous articles have been written about her strange obsession with collecting knives.
However, you might want to direct your attention to one of our Georgia Baptist church leaders, who recently was inducted into the Georgia Custom Knifemakers Guild. Kenneth Aycock, discipleship and missions pastor of Hopewell Baptist Church in Gainesville, has developed the craftsmanship necessary to create a knife both ergonomically and aesthetically pleasing.
Mentored in the process
Aycock recalled, "I've always liked pocketknives. As far back as I can remember, my dad had a pocketknife and he used it often for a variety of things. So, since he had one, I always wanted one myself. I was probably nine years old when I got my first knife. I have loved them and collected them ever since. I particularly enjoy collecting the Case pocketknife, especially the Medium Stockman pattern.
"I have always enjoyed setting goals. I have set goals for myself as a husband and father. I've also established individual goals I want to attain. One of the individual goals I wrote down was to learn how to make knives.
"I started to research knife-making and found some helpful books and information online.
"In May of 2015 God called me to the staff of Hopewell Baptist Church in Gainesville. Six months later our staff was at lunch one day and when we got back to the church our student pastor showed us a knife he had won at a bow shoot at a local church. I looked at the custom-made knife and got out my phone to Google the craftsman, Scott Davidson of Solid Rock Knives.
"I contacted Scott via email and told him I was interested in knife-making and asked him if he knew of anything I could do to learn about making knives.
"He responded with suggestions and also asked me where I lived. It turns out Scott's shop is about 30 minutes from my house. He graciously invited me to come to his shop one night in early December and let me watch as he made knives. It was a great experience and I had a great time. When I was leaving Scott invited me to come back in January. I accepted his invitation and have been going back to his shop ever since. Scott is a Christian and has become a great mentor and friend."
Applying a new skill to support missions
Aycock carefully observed Davidson's work, asked questions, and started on his first knife. By March of 2016 he had finished. Aycock stated, "I am so proud of that knife. It won't win any awards, but to me, it's priceless. I felt a sense of accomplishment, but I was also reminded how much God cares about giving us the desires of our heart."
Now, less than a year later Aycock is a member of the Georgia Custom Knifemakers Guild. The guild is a non-profit entity dedicated to fostering and furthering the passion for custom knife-making and related activities in Georgia. It was founded in October 2003 for the purpose of educating people on knives and knife-making and helping others learn the craft. Aycock was juried into the guild at a quarterly meeting held on Feb. 11 in Cumming.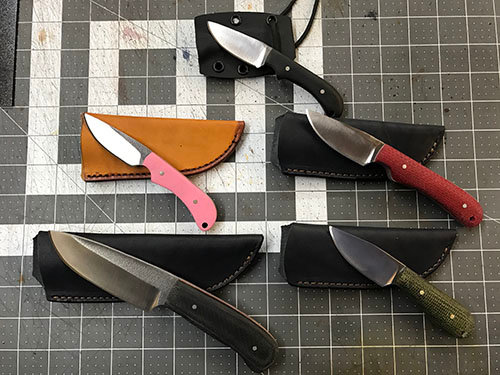 Toward the end of 2015 Kenneth Aycock developed an interest in crafting knives. Today, the discipleship and missions pastor of Hopewell Baptist Church in Gainesville has built approximately 50 of them. In turn, he has sold several knives to support missions efforts in Guatemala and New York City. KENNETH AYCOCK/Special[/caption]
Aycock explained, "There are many benefits of being in the Georgia Guild. What I have found is that it is made up of men and women passionate about knife-making and helping others learn the craft. It provides opportunities for both novices and professionals to interact with the goal of improving as knife-makers."
In order to be considered for guild membership Aycock had to fill out an application form, submit three knives he had made by himself, and meet with three members of the guild leadership in order to answer questions about the three knives he had submitted. They discussed his candidacy in his absence and then called him back into the room and told him he was juried and a member of the Georgia Custom Knifemakers Guild.
"Since I completed my first knife in March of 2016, " Aycock explained, "I have made 50 knives. They are used for gifts for family and friends and I also sell them to individuals. I didn't start out planning on making that many knives, but God opened the door for me to use some of the proceeds to financially support members of Hopewell who are going on mission trips.
"I have also been able to use proceeds to support missionaries in Guatemala and New York City. So, I feel my hobby is helping me and others fulfill the Great Commission. My desire is to lift up the name of Jesus in my ministry at Hopewell, but also in my knife-making."