DULUTH — The calendar said January 6 but the carols sung in Spanish said that the Christmas season had not yet ended – at least not before the night was over.
More than 250 members and guests crowded the First Baptist Church fellowship hall for the first Three Kings Day Celebration that honored the bringing of gifts to the Christ child. And, a royal celebration it was.
A mariachi band belted out traditional Mexican favorites while the church's Spanish culture/language class, composed primarily of Anglos, sang carols in the group's native tongue. The Christmas story was told, a popular local food truck vendor served tacos and refried beans and yellow rice, and the Three Kings themselves filled 40 sets of children's shoes with small gifts.
It was just one night of cultural celebration that the church has begun incorporating into its ministry to identify with the many internationals that are making Duluth one of the nation's most culturally diverse communities.
Thousand-year-old celebration
Verdi Avila, a deacon and native of Ecuador, explained to the group how the celebration, more than a thousand years old in Spanish culture, serves as a bookend to the Christmas season.
"Many Hispanic cultures, especially in Latin America, celebrate Dec. 25 as Christ's birthday. But it is not until Jan. 6 when the Wise Men brought gifts to the Christ child that we exchange gifts."
The event marks the official end to the Christmas season for many believers. The fact that Epiphany, or the 12th day of Christmas on the Advent calendar, fell on a Wednesday this year made the celebration even more special.
Pastor Mark Hearn, who will celebrate his sixth anniversary at the church in February, told The Index that the church is attempting six multicultural events this year ranging from Posada – a distinctly Mexican celebration at the beginning of the Christmas season – to its first Chinese/Korean New Year observance on Feb. 7 and its third India Independence Day observance on Aug. 15.
57 languages spoken in local high school
"In 2000 Anglos made up 68% of the city's population. Just ten years later that number had shrunken to 41%. When I came to this congregation in 2010 there were already 57 languages being spoken at our high school," he added.
First Duluth averages about 500 in Sunday morning worship and has 35 different birth nations scattered throughout its membership. A flag is proudly added in the sanctuary every time someone from a new country joins the fellowship.
The church's three major non-English speaking groups are Hispanic, Korean, and Mandarian Chinese. It offers live interpretation of the Anglo service in Spanish and Korean with plans to add Chinese. Others are included for special occasions as needed.
Cross-cultural church
"We are a cross-cultural church that does not cater to one group," Hearn explained. "Tonight at our Three Kings Celebration we had Hispanics from a variety of countries as well as families of Anglos, Koreans, Chinese, and South Asian Indians."
First Duluth believes in missions outside of his walls as well as inside. It it involved in two church plants in metro Atlanta as well as sponsoring a church in its sister city of Duluth, MN.
But it is not sponsoring separate language congregations on its campus. Instead, it believes that people from a variety of cultures can worship in the same service in their heart language. To help bridge that gap between cultures, it offers Korean and Spanish culture/language training.
For example, the choir at the Three Kings Celebration was primarily Anglos from the Spanish culture/language class taught by Avila to enhance their ministry both locally and as they participate in mission trips.
Planting churches around the world
In addition to planting churches locally and in Minnesota, the congregation is committed to starting churches in countries with the largest unreached people groups in Duluth, Hearn explained.
To meet that goal it takes regular mission trips to Mexico – to rural villages in the Yucatan Peninsula and in Central Mexico. While there its members undergird local churches through visitation and Vacation Bible School and adult Bible Study, and distributing backpacks of school supplies to children and clothing for themselves and their parents.
"We are also starting churches in India, Nigeria, and adding China in the next year or two," he added.
Hearn's next project, a book for LifeWay titled Project 57, will be published this year and will describe the church's outreach among the city's nearly 60 languages that are spoken in the high school.
"We will not rest until we have a ministry among all of the unreached people groups in Duluth," he concluded.
And that will most likely include adding just a few more cultural events to build bridges into the community that result in more lives reached for Christ.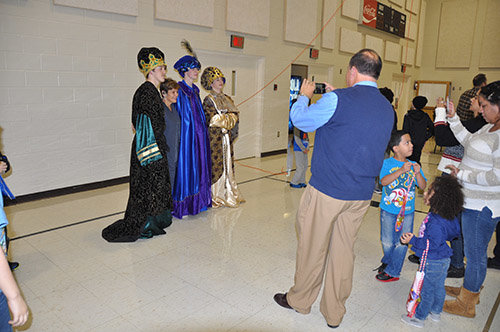 The Three Kings – Connor Newman, Noah Hensley, and Cameron Newman, left to right – pose for photos with the children. JOE WESTBURY/Index[/caption]