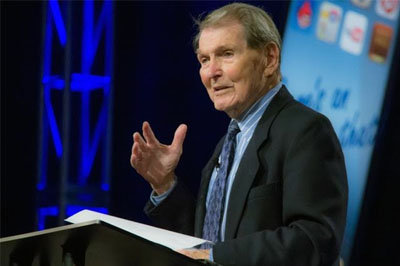 Before Tim LaHaye was a co-author of the "Left Behind" series he had become well-known as a pastor and leader encouraging Christians to become involved in politics. TIMLAHAYE.COM/Special[/caption]
SAN DIEGO — Tim LaHaye, age 90 and one of the most prominent Christian leaders in the last 70 years, died July 25 in a San Diego area hospital just days after suffering a stroke.
LaHaye may be best know for his series of 16 "Left Behind" books, which took the nation by storm between 1995 and 2007. LaHaye and Jerry B. Jenkins collaborated on the series dealing with Christian dispensationalist End Times and sold more than 80 million copies.
Jenkins considered LaHaye a "spiritual giant" and Christian News Service quoted him as saying, "Thrilled as I am that he is where he always wanted to be, his departure leaves a void in my soul I don't expect to fill until I see him again."
Rise in influence
Tim LaHaye pastored churches in South Carolina and Minnesota before moving his family to California where he became pastor of Scott Memorial Baptist Church in San Diego. Under his 25-year leadership, the congregation expanded to three locations including what is now Shadow Mountain Community Church in El Cajon, where David Jeremiah is pastor.
He was in great demand as a preacher in conferences all over the nation. I was fortunate enough to have Dr. LaHaye preach for me when I was pastor of Colonial Heights Baptist Church in Jackson, MS. His message was riveting and he captivated his audience with his words and mannerisms.
LaHaye was married to Beverly Ratcliffe on July 5, 1947. She was a dynamic woman with incredible leadership abilities. She founded Concerned Women for America in 1979, the nation's largest public policy organization for women, with 600,000 members.  The LaHayes' union prompted Time magazine in 2005 to name them "The Christian Power Couple." In that issue of Time LaHaye was named one of the 25 most influential evangelicals in America.
LaHaye also founded two accredited Christian high schools, a school system of 10 Christian schools, and what is now San Diego Christian College (formerly Christian Heritage College). In 1972 he co-founded the Institute for Creation Research with the late Dr. Henry Morris. The Institute is widely respected for its scientific offerings related to creationism.
As a couple, the LaHayes hosted a radio show and, later, a TV program called "The LaHayes on Family Life." In keeping with their faith, the show promoted Christian values.
Building a coalition
During the 1970's Dr. LaHaye was instrumental in gathering a coalition of Southern California pastors together to address a progressive agenda that was undermining traditional family values. Also in the '70s he encouraged the late Jerry Falwell Sr. to establish the Moral Majority as a way to build a similar coalition nationally. He was also widely credited with garnering evangelical support behind the campaign of George W. Bush.
Along with his wife, LaHaye was a generous benefactor, donating millions to numerous religious institutions including Liberty University and San Diego Christian College.
Christian News Service reported,  "One of the great things I saw Tim and Beverly do was to launch and fund a mission project in Atlanta. It was a mission church that is now a megachurch with 5,000 to 6,000 members," said Richard Lee, founding pastor of First Redeemer Church in Cumming, the mission church supported by the LaHayes. "If it hadn't been for Tim and Beverly that work would have never started. His life was more generous than most people can imagine. He was so quiet about his generosity."
Funeral arrangements for Dr. LaHaye are pending.