Jesus set the example and standard for what being a good shepherd looks like. He said in John 10:11 that a good shepherd is willing to lay down his own life for his sheep. What Jesus is saying is that if it comes down to the shepherd's life, comfort, and convenience or the sheep's life, comfort, or convenience, it's the sheep that get the priority! This is very simple and very obvious! For the shepherd, the priority is the sheep!
I cannot imagine any father who loves his wife and children being willing to sacrifice his family for his own protection! Think about this for a moment ... this is true! On the same side, I cannot imagine a pastor, called of God to be an under-Shepherd, who would be willing to sacrifice Christ's sheep for his own comfort and convenience!
Religious freedom is in the emergency room of our country. Local business owners and public employees are willing to sacrifice their lives, their fortunes, and their sacred honor for their First Amendment rights! While it is true that our pastors deserve their First Amendment protections, that is not where the injuries are occurring in our country!
The last thing we need in this country is for the government to begin picking and choosing just whose First Amendment protections are most important! The last time I checked the First Amendment was for all Americans and for all Georgians!
This is precisely why in 1993 Congress passed (almost unanimously) the Religious Freedom Restoration Act (RFRA). Congress and President Bill Clinton knew that the freedoms lost in the 1990 Supreme Court decision Employment Division v. Smith had to be restored to the nation. They knew that religious freedom deserved the same high standard of protection that freedom of the press, freedom of speech, and freedom of assembly have.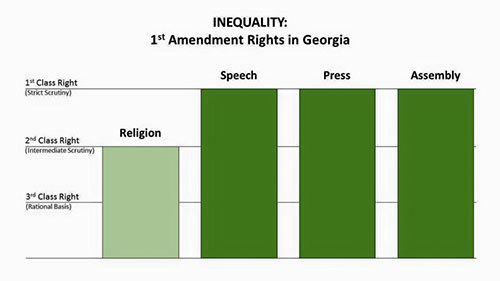 Then the Supreme Court ruled that these "restored" freedoms protect only against federal government action, and that similar RFRAs must be passed in each state to protect against action by state or local governments. Since then, over 30 states have taken action to restore these rights.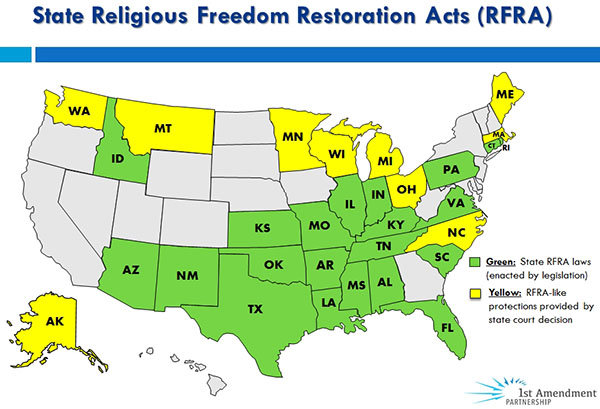 This brings us to Georgia. The Georgia General Assembly is in its third straight year trying to pass legislation guaranteeing all Georgians their full constitutional rights. So far, we have a RFRA that has been passed by the Senate and is now bogged down in the House Judiciary Committee. We have two other House RFRAs that have not been given a hearing. We have a First Amendment Defense Act (FADA) that is awaiting approval in the Senate Rules Committee. We have five other individual religious liberty bills that have been introduced in either the House or Senate. The Pastor Protection Act just passed the House with a unanimous floor vote on February 11th. To say the least, religious liberty has gotten the attention of our legislators, but unfortunately they are still picking and choosing who is protected and who is not.
The bottom line is this: Any serious consideration of religious liberty legislation has to begin with broad-based, comprehensive, constitutional protection. 2016 is an election year. The proliferation of religious liberty legislation indicates that politicians are aware that, since the Supreme Court ruling on same-sex marriage, citizens are worried that their free exercise of religion is now threatened. They are also concerned that public accommodations laws will soon fall to the demands of LGBT activists so that businesses and even faith-based organizations will be forced to accommodate and participate in same-sex ceremonies. Furthermore, parents are concerned that public schools will soon be forced to accommodate transgendered students in bathrooms of their choice.
The point I am trying to make is that legislation such as the Pastor Protection Act does not address the most pressing issues with regard to protecting religious liberty. Instead, while the Senate is passing substantive protections, the House appears to be taking the path of least political resistance to avoid the wrath of the Chamber of Commerce and LGBT activists.
Now, just because a legislator voted for the Pastor Protection Act does not mean he or she feels this way. The problem is that the Georgia House Members have not been given an opportunity to vote for broad-based legislation. The problem is not that RFRA won't pass. The problem is that, given a vote in the House, it would pass!
This is a problem for the Chamber of Commerce, the LGBT activists, and liberal media. At this moment, too many of our legislators under the Gold Dome are listening more to the Chamber of Commerce than to the grassroots citizens of our state. The cry is no longer, "Give me liberty or give me death!" It is more like, "Give me the Super Bowl or give me death!" The legislature must see that we simply cannot sell our rights away!
The Pastor Protection Act must not become a substitute for a genuine RFRA or FADA. But it will, if the citizens (and pastors in particular) don't stand up and let their voices be heard.
At this moment, too many of our legislators under the Gold Dome are listening more to the Chamber of Commerce than to the grassroots citizens of our state.
I think it is time for our pastors to take a stand for religious freedom protection for all citizens of Georgia, saying that "what is good for the goose is good for the gander." Pastors need to say, "If the members of our congregation cannot have equal protection under the law for their First Amendment rights, then neither will we!" Pastors should ask the Georgia Senate to reject the Pastor Protection Act, if it does not have at least RFRA protection for their church members, too! Therefore, the Georgia Senate should amend the Pastor Protection Act with broad based first amendment protection for all Georgians.
We must soundly reject the notion that protecting all Georgians' religious freedom rights is a gulf too wide to cross! What has happened in our country is that we are allowing the government to give the credentials to those it chooses to protect over the rest of its citizens. If it has become too big of a step for "conservative" majorities in the Georgia legislature to protect religious liberty, then we have already lost our country.
It is time for every pastor to say, that if my people, in the eyes of the Georgia legislature, do not deserve full religious freedom and protection, then neither do I! Pastors, it is time for us to lay down our lives, our fortunes, and our sacred honor to protect God's sheep! Now is the time to stand up for the sheep!
This says it all: "I am the good shepherd. The good shepherd lays down his life for the sheep. He who is a hired hand and not a shepherd, who does not own the sheep, sees the wolf coming and leaves the sheep and flees, and the wolf snatches them and scatters them." - Jesus Christ