Stories from across the Southern Baptist Convention ...
National CP 7.19% ahead of projection
NASHVILLE (BP) — Year-to-date contributions to Southern Baptist Convention national and international missions and ministries received by the SBC Executive Committee are 7.19 percent above the year-to-date budgeted projection and 1.46 percent above contributions received during the same time frame last year, according to a news release from SBC Executive Committee President and Chief Executive Officer Frank S. Page.
The total includes receipts from state conventions and fellowships, churches, and individuals for distribution according to the 2015-16 SBC Cooperative Program Allocation Budget.
As of Feb. 29, gifts received by the Executive Committee for distribution through the Cooperative Program Allocation Budget through the first five months of the SBC's fiscal year totaled $83,293,559.57. The total is $5,585,226.24 above the $77,708,333.33 year-to-date budgeted amount to support Southern Baptist Convention ministries globally and across North America and is $1,195,455.23 more than the $82,098,104.34 received through the end of February 2015.
According to the budget adopted by the SBC at its June 2015 annual meeting in Columbus, OH, if the convention exceeds its annual budget goal of $186.5 million dollars, the International Mission Board's share will go to 51 percent of any overage in Cooperative Program allocation budget receipts. Other ministry entities of the SBC will receive their adopted percentage amounts and the SBC operating budget's portion will be reduced to 2.4 percent of any overage.
'Apologetic Cafe' takes to radio airwaves
SHERWOOD, AR (BP) — Baptists may say they love hearing God's Word preached on Sunday mornings, but sometimes a sermon may raise more questions than answers, notes Arkansas pastor Joe Manning.
Manning, pastor of Bethel Baptist Church in Jacksonville, AR, is a self-proclaimed apologetics junkie who holds a doctorate in the field from Trinity Theological Seminary in Newburgh, IN. Manning first recognized the need for a time of open conversational dialogue about God and the Bible when he was pastoring a church in Hawaii. Outside of church services, he began meeting with students at Starbucks to discuss his sermon content. They called the group "Theology Cafe."
Manning said that upon becoming pastor of Bethel Baptist, members of the church began a similar group in Jacksonville. The group eventually evolved last August from a Bible study and discussion into a 30-minute radio program called "Apologetic Cafe," which airs at 7 p.m. each Tuesday on FaithTalk 99.5 FM.
Manning, along with members of Bethel Baptist and guests, meet each Tuesday evening at Ropers Restaurant in the Gravel Ridge neighborhood of Sherwood to produce and stream "Apologetic Cafe." The program's structure consists of a Bible study led by Manning interspersed with questions and interactions with the other individuals in attendance.
"We have been able to connect with some folks," Manning said. "A lot of emails I get asked, 'Can you go for an hour? A half-hour isn't long enough.'"
Read the full story at Baptist Press.
J.D. Greear to be SBC president nominee
ST. LOUIS (BP) — North Carolina pastor J.D. Greear will be nominated for president of the Southern Baptist Convention, Florida pastor Jimmy Scroggins announced March 2.
Greear, 42, "is leading his generation to live out a passion for the SBC, missions and the local church," Scroggins, pastor of Family Church in West Palm Beach, FL, wrote in a news release stating his intention to nominate Greear during the SBC annual meeting June 14-15 in St. Louis.
During the 14 years Greear has pastored The Summit Church in Raleigh-Durham, NC, worship attendance has grown from 350 to just under 10,000, Scroggins said. Total baptisms increased from 19 in 2002 to 928 in 2014, the last year for which statistics are available through the SBC's Annual Church Profile.
Scroggins said The Summit's "149 people currently with" the International Mission Board marks the largest total from any church in the convention – a statistic the church told Baptist Press the IMB has confirmed. Greear himself served two years with the IMB before being called to The Summit.
Closer to home, The Summit has planted 26 churches in North America in conjunction with the North American Mission Board.
Three years ago, the congregation voted to increase its giving through the Cooperative Program over a five-year period to 2.4 percent of undesignated receipts, the church confirmed to BP. The Summit reached its goal two years early.
Greear's nomination is the first to be announced for the SBC annual meeting. He is married to Veronica and has four children. Greear holds master of divinity and doctor of philosophy degrees from Southeastern Seminary.
With stains removed, he returns to the streets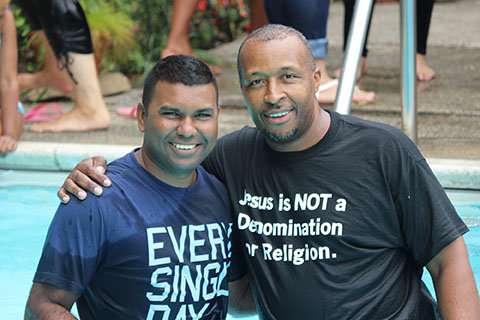 David Holland, right, and his pastor Shaun Pillay celebrate a baptismal service for Cornerstone City Church in Norwich, CT. Holland, the first person to come to Christ through the church plant, now is Cornerstone's community outreach organizer. BP/Special[/caption]
NORWICH, CT (BP) — David Holland says his single mom raised him right. He went to church and knew about God. But when he got older, he "branched out into different areas." Soon, he was mired in a life of crime and addiction.
Between the ages of 21 and 40, Holland estimates he spent eight-plus years incarcerated for short-term sentences on a range of charges, such as cocaine possession with intent to sell and domestic violence.
Incarceration, Holland now believes, was God working to rescue him from his addictions to alcohol and crack cocaine. His brother remembers him as looking like a dying HIV patient during that time.
"A lot of my friends are dead," said Holland, of Norwich, CT. "If they aren't dead, they probably wish they were because they are crippled, paralyzed or addicted to drugs."
Violence claimed the life of one of his closest friends, gunned down by rivals in broad daylight. The friend's death gripped Holland with fear, so he went home and destroyed all of his drugs and related paraphernalia, then started praying.
"I just started praying to God, and it was scaring me more because I knew He was hearing me," Holland said. "I knew He was answering me."
The answer started with a carpet-cleaning job. One of Holland's first assignments was to clean the carpet at a Southern Baptist church plant, Cornerstone City Church. While struggling to clean a pesky stain, he was approached by pastor Shaun Pillay.
"You know that stain you keep trying to get, we have them in our heart too," the church planter said. "Sometimes when we try to get rid of them we can't. But Jesus can."
For full story go to Baptist Press. 
Casper, WY church planter adds mentoring to the mix
Horizon Magazine/WSBC — Church Planter Chris Sims invited the young bicyclist who lived two doors down to a "park party," and he came, with his Mormon dad.
"We started talking; he broke it off suddenly, but a month later he came to my house," Sims said. Conversations over the next several months led in January to the father and son being baptized, and in April, the boy's mom.
"They had been attending the Mormon church weekly, but feeling less and less love and acceptance than they had when they became Mormons 14 years previously," Sims said. "Over time that became much more legal and difficult, and they didn't sense grace.
"They sensed grace in our group, and months later I shared the gospel with him in our home, and led him to Christ."
The grace Sims shares has led to the growth of not only Wind City Church, but also to an apprenticeship program to equip others to plant churches in Wyoming and other Rocky Mountain states.
Full story available in the March edition of Horizons, magazine of the Wyoming Southern Baptist Convention.
IMB's Platt tells live stream audience he's looking forward after 'reset'
RICHMOND, VA (BP) — Following an "organizational reset" that saw more than 1,100 International Mission Board personnel transition away from the board, President David Platt told a March 3 live stream audience he is ready to focus on the future.
"I really want to shift the conversation from talking about numbers and finances to talking about how this army of brothers and sisters going out specifically from Southern Baptist churches across North America can make the Gospel known among the nations," Platt told an online audience that included viewers on more than 1,000 electronic devices.
Platt acknowledged "there has been and continues to be in the IMB family ... and the broader SBC family a kind of grieving process" associated with seeing hundreds of missionaries and stateside staff shift to other ministry fields. Southern Baptists are "continually wrestling through" implications of that transition even as they focus on fulfilling the Great Commission going forward.
In an hour-long livestream event that included viewer questions submitted via Twitter, Platt listed five "primary desires" that drive the IMB in its ongoing work:
A desire to exalt Christ

A desire to mobilize ordinary Christians

A desire to serve and equip local churches

A desire to facilitate church planting

A desire for the 46,000-plus Southern Baptist churches to each play their part in accomplishing the Great Commission.
GuideStone church compensation survey deadline May 31
DALLAS (BP) — Church ministers and staff have until May 31 to complete the biennial SBC Church Compensation Survey for 2016.
The survey, launched by GuideStone Financial Resources, along with LifeWay Research and Baptist state conventions, is a resource used by churches of all sizes to determine fair wages and benefits for Southern Baptist ministers and church employees.
Survey participants will have the opportunity to enter for a chance to win an iPad. The survey and complete contest rules are available here. The winner of the iPad will be notified via email.
The survey's results will be made available in the early fall, in time for many churches considering their 2017 budgets. The survey is believed to be the largest free, church compensation study conducted in the United States. The most recent survey results – conducted in 2014 – have been visited nearly 55,000 times.
Survey results are not reported individually. Compensation and benefit information can be contributed anonymously. At the conclusion of the survey, GuideStone and LifeWay will compile the submitted data and provide all users with access to the results. Participants in the survey who provide an email address will have first access to the study's customizable reports.
Contact GuideStone Financial Resources for more information at 1-888-98-GUIDE (1-888-984-8433) Monday-Friday between 7 a.m. and 6 p.m. CST, or send an email to info@GuideStone.org.