Anniversaries
Philip Johnson was honored Feb. 7 for 20 years as pastor of Sandy Creek Baptist Church in Fayetteville. The morning worship included special music by him and his family with the message brought by James Burdette. Lunch, a time of fellowship, and special presentations to Johnson and his wife, Cindy, followed the morning service.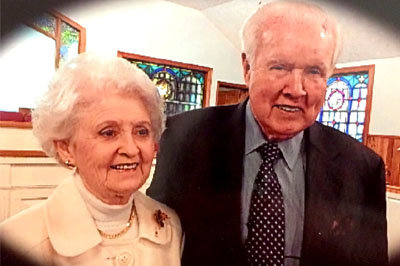 Recently
Joe and Phyllis Vernon
were honored after reaching 60 years of church service. Joe Vernon, pastor of Shoal Creek Baptist Church in Cleveland, has served the church since 2006, previously having been there from 1998-99. Called to preach while in the Marines, Vernon is a graduate of Truett-McConnell College, the University of Georgia, and New Orleans Seminary who has been a pastor in Florida and Mississippi as well as served in the Georgia pulpits of Nacoochee Baptist Church, Zion Baptist in Braselton, Flat Creek Baptist Church, Fifth Avenue Baptist in Rome, and First Baptist in Chatsworth. From 1989-2002 "Preacher Joe" was the Mountain Area Missionary for the Georgia Baptist Convention. In the summer of 1957 the couple served as home missionaries through the Southern Baptist Convention to Oregon.[/caption]
---
Deaths
Longtime Georgia Baptist minister and leader H. Ray Jenkins died Feb. 10 in Mobile, AL. He was 68.
A U.S. Navy veteran, Jenkins was a pastor or on staff at churches in Alabama, Florida, Georgia, and Louisiana. In Georgia, he was pastor of Second Memorial Baptist in Perry and McIntosh Baptist in Griffin as well as minister of education of Flat Creek Baptist Church in Fayetteville. A caller and judge for Bible Drill for 30 years, Jenkins also served on the Executive Committee of the Georgia Baptist Convention and was a moderator for Rehoboth Baptist Association. He was a full-time evangelist for 20 years and an officer of the Conference of Georgia Baptist Evangelists and the Conference of Southern Baptist Evangelists.
He is survived by his wife of more than 47 years, Pam; daughters, Susan Rietz of McNairy County, TN and Sara Kratz of Kinston, NC; three grandchildren; a sister, Patsy Lee of Sun City Center, FL; and a brother, Larry Jenkins of New Port Richey, FL.
---
Ministerial Moves
Northside Baptist Church in Valdosta has called Christopher Sanchez as pastor of education and evangelism. Sanchez earned his master's degree from Liberty Baptist Theological Seminary and doctorate from Southern Seminary. He is joined by his wife, Melisa, and their children, Joshua, 14, and Hannah, 12.
---
Revival Reports
On Jan. 31 evangelist Keith Fordham preached a sermon on alcohol, cocaine, and marijuana at Harp's Crossing Baptist Church in Fayetteville. Afterwards two families went home and poured out their wine, according to reports. On Feb. 10 Fordham preached again at the church. The sermon, directed toward students, was titled "The Importance of Expedience." Four students prayed to accept Christ as their Savior.