DULUTH — A familiar name to Georgia Baptists will be the lead strategist for mobilizing women and girls to ministry and missions.
Beth Ann Williams, who has served as executive director-treasurer of Women's Missionary Union since 2013, arrives to the newly-named position for Georgia Baptist Women as part of the current restructuring of the Georgia Baptist Mission Board. As lead strategist – essentially a vice presidential-level position within the larger Mission Board organizational structure – she will coordinate missions discipleship and mobilization throughout the state ranging from preschool age through adults.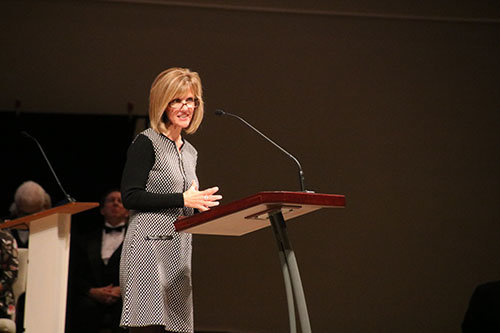 Beth Ann Williams speaks at the 2018 Georgia Baptist Convention annual meeting in this file photo. Williams was recently named lead strategist for Georgia Baptist Women as part of the restructuring of the Georgia Baptist Mission Board. SCOTT BARKLEY/Index
"This is an incredible opportunity to elevate the involvement of Georgia Baptist women," Williams, a member of Lawrenceville First Baptist Church, told The Index. "We've always been involved, of course, but this will take the ministry to a new level in order to make an even greater impact for Christ."
Karen Pace and Beverly Skinner, also longtime associates in WMU and women's ministry, join Williams' team. Pace will focus on children and preschool ministry as well as leadership development while Skinner will do so regarding students, young women, and women's ministry. Tabitha Ferrell will continue serving as director of Camp Pinnacle Summer Missions Camp.
While her department is technically getting a new name, Williams says it more clearly reflects a culture of cooperation among two areas – WMU and Women's Enrichment Ministry – that has been ongoing for several years.
"We want every Georgia Baptist woman to feel connected to us," she said. "Eight years ago, we intentionally changed our annual meeting from Missions Encounter to Georgia Baptist Women's Spring Event to reflect that it was something every Georgia Baptist woman could attend and be a part of."
A life leading others to engage in missions
A native of Kentucky, Williams was a pastor's kid who learned early the importance of women engaged in missions at the local church level. Her hunger for missions only grew as a member of the Baptist Student Union at Eastern Kentucky University. With plans on entering collegiate ministry, she instead accepted an offer in 1993 to become associate director of the 1996 Summer Games Baptist Ministry through Atlanta International Ministries. Her work connected her with the Georgia Baptist Convention (now Georgia Baptist Mission Board), leading to a consultant role in Mission Volunteer Ministries.
With the 2002 Winter Olympics slated for Salt Lake City, Williams' experience in working with the Atlanta Olympic Games put her on the radar of the Utah-Idaho Baptist Convention. As such, in 1999 she became director for the Convention's Global Outreach 2002 Winter Games Baptist Ministry. With the position came a $1 million budget and 20 staff members responsible for recruiting and training some 2,000 volunteers for missions service.
In 2002 Williams' role in the Olympic ministry came to an end, but she was named the Convention's executive director for WMU, Women's Ministry, and Partnerships and Special Ministries. She remained in that role until August 2007, at that point moving with her husband, Dan, and their two daughters back to the Atlanta area after accepting a consultant position with Georgia WMU and Women's Ministry.
The important role of women
The Mission Board restructuring provides an opportunity to further galvanize a formidable aspect of Georgia Baptists, said Williams.
"Georgia Baptist Women is built on three statements," she pointed out.
"Every Georgia Baptist woman in a growing relationship with Jesus Christ and leading other to the same.
"Every Georgia Baptist woman in community, connected to a local body of believers.
"Every Georgia Baptist woman on missions, understanding and being radically involved in the mission of God."
The recent Annual Church Profile report showing, yet again, another drop in baptisms for Southern Baptists, only reinforces the need to get more involved in missions, she asserted. Women will be a crucial part of turning that trend.
"We want women to be in a growing relationship with Jesus Christ and living out in obedience what God has called them to do in missions. That's my heart," she said. "Churches organize women and children differently, but at the end of the day we want them to be living out what Christ has called them to do.
" brings a sense of urgency. It's a motivation to mobilize for greater ministry. Our women play an important role in that evangelism strategy."