FORSYTH — What does a camp director do when churches, typically the lifeblood of a summer camping program, slowly begin to send fewer children and teens for this classic summer experience?
Go fishing.
Or in Mike Flowers' case, fishing for boys who are unchurched and need to hear the story of Jesus. And not only the boys, but their sisters as well.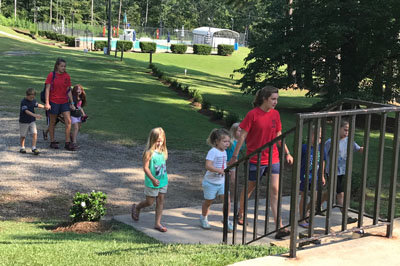 Female staffers, once a rarity, are now a significant part of the summer work force at Camp Kaleo – once a "boys only club" for campers. JOE WESTBURY/Index[/caption]
Flowers is completing his 16th summer at the Royal Ambassadors camp 90 minutes south of Atlanta, and the camp still maintains a RA presence. But not as strong as in former years.
So he looked around the area and, seeing the fields white unto harvest, began investing himself in Monroe County. He reinvented the camp and added a day camp feature and ditched the "boys only" atmosphere, opening the doors – as well as the woods, lake, canoes, and adventure games – to their sisters.
And by not only growing staff and attendance, he is reaping a harvest he never thought possible.
"We want to make Kaleo known to Monroe County so we can make Christ known to Monroe County," he says while standing until a tall Georgia pine. Sounds of boys jumping off the bridge into the lake float by on the summer breeze.
Tapping into a niche market
Flowers tapped into an underserved niche market and built visibility for the camp's ministry. One was ditching the exclusive male image and opening it to both genders.
Another was making it attractive to local schools to provide a day escape for students who behaved themselves and did not require discipline during the school year. Begun seven years ago, that venture has proved to be another of the camp's success stories.
That was a tough one, he admits, but his gamble played off. This summer, 900 students enjoyed a day at Kaleo courtesy of the camp. The elementary students were kings of the woods from 9 a.m. until 3 p.m. The school system provided the lunch.
The word has now spread and a school in Columbus just completed its third year of bringing students to the great outdoors. About 100 were on this summer's outing.
"The kids just love it, it's a life-changing experience on so many different levels," Flowers says.
'Purpose Filled, Mission Skilled'
It never happened by accident and it took a lot of creativity and sweat equity for it to all come together.
"My wife Julie and I mailed out 7,000 flyers to different Zip codes in Monroe and Bibb counties. Then we distributed 1,600 to the three Monroe County elementary schools," Flowers recounts.
And to put the icing on the cake … or dip the ice cream in the chocolate shell … another batch of flyers were placed at the Forsyth Dairy Queen. An additional two yard signs at the popular hangout caught the eye of passing motorists.
One of those motorists was a woman who had custody of her nieces and brought the girls to the camp. One of the young girls accepted Christ and her sister followed a week later. Their half-sister then followed suit, completing the childhood family circle.
The veteran camp director says this summer's theme is "Purpose Filled, Mission Skilled" and focuses on three elements: knowing the mission, praying for the mission, and targeting a people.
Every camper leaves for home with a Bible and an MP3 player loaded with the New Testament dramatized. A work book titled My Home Mission helps the child reach his or her family with the gospel.
Actively doing U2019 right now
"We are actively doing U2019 right now," he added. "We see the need to reach these children now and want to take advantage of the vision God has given to us."
Research shows that the more Christian camps a teen attends, the more likely he or she is to come to faith in Christ, and the more likely to remain in church as adults. U2019 is an evangelistic emphasis being rolled out by the Georgia Baptist Mission Board that seeks to reach youth under the age of 19 for Christ. Learn more about the initiative here.
Kaleo still has RA campers, but as churches attract fewer children and youth, there are fewer children to send to camp. So, Flowers has expanded Kaleo's offerings to include Adventure Camp for boys and girls, summer camp options for individual churches, and day camp for locals. This summer's day campers total more than 300 individuals, not including the popular and expanding elementary school day groups.
Day camps started a decade ago with only four female staffers and average a dozen campers. Today, eight staffers, both male and female, serve between 50 and 60 guests from Lamar, Monroe, and Bibb counties, Flowers explained.
Bigger lens, bigger vision
Staff has grown accordingly, with all the expanded offerings that come through 26 now working this summer: 16 males and 10 females. Of those, 16 are lifeguards, one of the largest numbers in the state. This year's campers numbered 2,300 since it opened its summer schedule in June. That includes the weeklong RA experience plus six weeks of young girls' overnight adventure camps.
"When you have a good reputation and the kids are having a good experience and tell their friends, doors just open throughout the county. For example, this is the first year we have added Monroe County elementary schools for a day but the word is out among the school administrators. We hope to have the other three schools in the near future," he explains.
And the impetus behind getting all the day campers?
"Day campers come for a day or a week, and guess what? They become night campers because they want even more of the outdoors experience. It's been totally amazing to see the transformation of the camp in the past 16 years," Flowers added. "God is up to exciting things at Camp Kaleo.
"If we did nothing and just continued on the old path that is still used by so many state conventions with declining campers from their churches, Camp Kaleo would be 'done for.' That narrow lens just doesn't work any more, but we are learning that God has a bigger vision for this place."