BLUE RIDGE — Victor Hugo said, "Forty is the old age of youth; fifty the youth of old age." However Hugo did not know 97-year-old Dale Dyer, who still has a spring in his step, a twinkle in his eyes, and a youthful attitude toward life.
Dyer was a World War II Army Air Corps pilot who never jumped out of an airplane until he was 80 years old. He explained, "The jump was from an altitude of 14,000 feet. We were in a free fall for 8,000 feet, going down at 120 miles per hour. The wind was blowing, but it was so quiet, invigorating, and beautiful."
Dyer and his instructor landed in a field after the descent and the instructor asked, "Are you ready to go again?"
Dyer replied, "I think I will wait until I am 90 before I do it again."
Sure enough, at age 90 Dyer made his second jump. Then recently was asked if he would do it again. He replied, "If I feel like jumping at 100 I might do it again."
A reputation built
His pastor, Bob Richardson of Blue Ridge First Baptist Church, has indicated that if Dyer parachutes out of a plane at 100 years old he will jump at the same time. If that happens the two men will likely have a national audience watching the event on television.
However, Richardson has already stated that he may pray for inclement weather on Dyer's 100th birthday.
Dyer has also been known to ride a bicycle backwards. Although he hasn't attempted that unusual feat since he was 65 years old, most people 30 years younger wouldn't attempt it for fear of serious bodily injury.
However, Dyer is best known in Blue Ridge for his faith in God, his contributions to the community, and his courageous efforts as an Army Air Corps pilot to preserve freedom in World War II.
Dale Dyer was born in his parent's rural home near Clearwater, KS on December 8, 1919. He grew up in a Christian family and trusted Christ as his Savior when he was 12 years old. Later, Dyer was baptized in the First Baptist Church of Clearwater.
A good student in school, as a teenager Dyer also was on the football, basketball, and track teams. He was a high jumper who said he could jump his height and ran in the quarter mile race.
On top of that, Dyer also served as president of his junior and senior classes and sang in the glee club, chorus, and a quartet.
Joining the effort
Upon graduating from high school, Dyer went to Kansas State University to major in Business Administration, but after enrolling changed his emphasis to Mechanical Engineering. He was also in the ROTC and after four years got his commission as a Second Lieutenant and at the same time got his orders to report to Fort Riley in northeastern Kansas on June 1. The year was 1942 and the United States was calling its citizens to join the war effort.
Dyer was assigned to an infantry unit at Ft. McClellan in Anniston, AL, but having earned a private pilots license in college, he wanted to transfer to the Army Air Corps. When his request was denied he went over the commander's head at Fort McClellan and wrote an official in Washington to register his request.
Amazingly, his request was granted to the great dismay of his commander in Anniston. Dyer recalled, "His eyes were shooting fire. He said, 'You have gone over my head. If you don't make it in the Air Corps you will have to come back here and I will not forget you.'"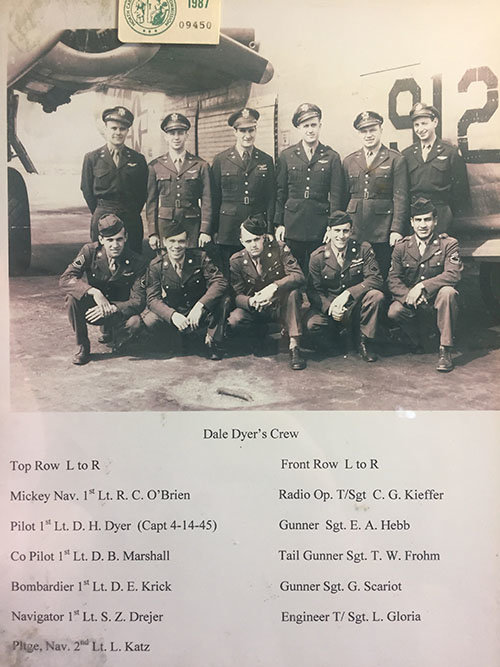 During WWII, Dale Dyer and his crew flew 26 missions over Germany, suffering no injuries and – despite heavy flack around his plane – never being hit. BOB RICHARDSON/FBC Blue Ridge[/caption]
Trained to be a leader
Dyer went to Maxwell Air Force in Montgomery, AL, to pre-flight school where he met all the physical requirements, learned Morse Code, gained the ability to identify all airplanes in the war effort, studied aerodynamics, and practiced flight maneuvers.
After his time in Montgomery, Dyer was shipped to Anderson, SC, for primary training on BT-13s. There, he learned to do figure eights and coordinate the airplane rudders and ailerons. On one occasion he manage to save a plane by landing it in a cotton field.
Dyer's training continued in Montgomery, Columbus, MS, and Smyrna, TN, where he learned advanced flying techniques and got his wings flying B24 bombers.
When the U.S. lost 54 of the 177 planes that participated in the daring bombing raid on the oil refineries at Ploiesti, Romania on August 1, 1943, many of the pilots refused to fly after that. The devastating loss of planes and personnel affected them emotionally and severely impacted their confidence as pilots. Those pilots were sent to Dyer, who worked with them, restored their confidence, and got them to flying again.
Off to Europe
In August 1944, Dyer went to the European theater of World War II and flew 26 missions over Germany. He flew his B-24 heavy bomber missions from a base near Norwich, England, a large city 100 miles northeast of London.
He reported, "I had friends who were killed, but my crew had no injuries. We got flak from anti-antiaircraft fire, but were never hit. We had no holes in our plane although the flak was popping all around us.
"There were a few times when the fog or smoke was so thick on our way back from a mission we had our crew looking out the windows to let us know when they saw water, because we had to come into our landing pattern from a low altitude. Occasionally, we had to dodge smokestacks, towers and tall buildings in order to make a safe landing."
Back home
Dyer left England on June 14, 1945 and had to stop in the Azores, Newfoundland and Connecticut before reaching his final destination in Sioux Falls, SD. The trip was interrupted with an engine failure and a fire, because Dyer said, "The plane was war weary."
From Sioux Falls Dyer called his wife-to-be and asked her to meet him in Kansas City. They met and got home on June 25. Dale had promised his fiancé that they would get married in June. The put every wedding plan on fast-forward and were married on June 30.
After brief stints in Alamogordo, NM and Amarillo, TX, Dyer was discharged from the Army Air Corps in September 1945. He needed to complete eight hours of college credits in order to graduate from Kansas State, accomplishing that in short order.
After working for one year with the National Geophysical Company, the Dyers moved to Blue Ridge, where Dale went to work for his father-in-law's Pontiac-International Harvester dealership, managing the business for 20 years.
"When I walked into the business, my father-in-law walked out," Dyer said.
In 1965 Dyer and one of his salesmen started a real estate company and remained in that business for 30 years. After two years of retirement Dyer went back into his former real estate business to rescue it from financial chaos. He eventually sold it again and retired for good at age 75.
Legacy
Dyer and his wife had four children, eight grandchildren, and two great grandchildren. He became a member of First Baptist Church in Blue Ridge in 1947 and taught children and youth in Sunday School, worked with Royal Ambassadors, and he sang in the choir until 2013.
The veteran has served as Sunday School Superintendent and chairman of the deacons and has had much to do with improving the church facilities. In addition, he seemed to enjoy his work with the youth best of all because he glowed as he spoke of taking them on hikes and camping trips. "We have hiked all the way from the base of Brasstown Bald (Georgia's highest peak at 4,784 feet) to the top of the mountain," he said.
Dyer also reads his Bible daily and gets on his knees to pray each night before he goes to bed.
On December 8, 2011 the citizens and notables of Fannin County gathered to pay tribute to Dale Dyer. The event was designed to celebrate his 92nd birthday, but also to recognize him for his multiple contributions to the community. He has been instrumental in preserving Fannin County history and has co-authored Facets of Fannin County as well as help establish the Fannin County Historical Museum. He still writes a column for the Blue Ridge newspaper, The News Observer.
On December 8, 2011 the city officials declared they were observing "Dale Dyer Day" and gave him a key to the City of Blue Ridge.
Aldous Huxley said, "The secret of genius is to carry the spirit of the child into old age, which means never losing your enthusiasm." Dale Dyer looks "as fit as a fiddle" and is "as sharp as a tack."
He truly makes 97 look quite appealing.