DULUTH — Georgia Baptist Mission Board Executive Director W. Thomas Hammond, Jr., has announced four more listening sessions to gather feedback by pastors. Three of those sessions will be held at churches whose congregations are not majority Anglo.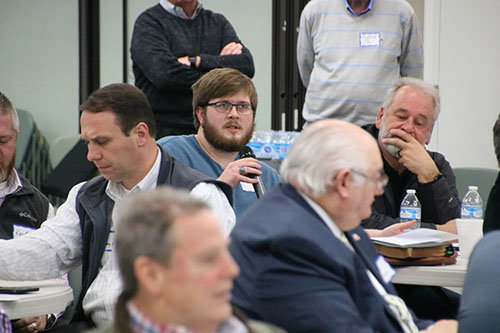 Pastor Jay Chambers, 21, of Parkview Baptist Church in Rome, asks a question at the listening session held Feb. 25 at Tabernacle Baptist Church in Cartersville. SCOTT BARKLEY/Index
The first additional session will take place March 5 at 6 p.m. at Amistad Cristiana Church in Gainesville. A week later, on March 12 at 4 p.m., Sugarloaf Korean Baptist Church in Suwanee will host. Another session will occur March 13 at Christ Covenant in Atlanta at 10:30 a.m. Emmanuel Community Church in Conyers will host the last listening session March 21 at 10:30 a.m.
Hammond said the Conyers session may be the last "for now," but didn't rule out additional ones in the future as the Mission Board continues to assess effective ways to resource churches.
The listening sessions, which began Jan. 23 at First Baptist Lyons, have averaged more than 60 attendees. Since then, additional sessions have taken place in Marietta, Dacula, Clermont, Macon, Columbus, and today in Cartersville and Villa Rica. The final sessions for February are this Thursday, Feb. 28 at Sherwood Baptist Church in Albany (10:30 a.m.) and Central Baptist Church in Waycross (6 p.m.).
The sessions last approximately an hour-and-half. After a welcome by Hammond, a set of questions gauging the effectiveness of the Georgia Baptist Mission Board are presented to pastors for small group discussion. The results of those discussions are then presented to the larger group.
"The attendance has been going great and feedback tremendous, so we decided to add more," Hammond told The Index. "I'm very excited about the response so far and the participation level, which has brought about a lot of excitement.
"Adding more churches, we feel, provides more opportunities to engage with preachers from various backgrounds," he added. "This is critical as we work to reach all across Georgia."