By Adam Wynn
Sherri Gordy, a member of Rincon First Baptist Church in Effingham County, had long pictured the day she would take her son off to college. It would be a warm, late summer day in August with a loaded-down vehicle full of clothes and dorm room essentials.
When the time came that Parker, her son, was accepted into the Georgia Institute of Technology in Atlanta, Sherri believed her dream and vision was nearing fruition.
"You expect your kids to go to college in the fall," Sherri explained.
Unfortunately, Sherri and her husband, Doug, soon learned that there would be a slight change to her plans.
"When he was accepted, we were told he would start on June 20. That didn't fit with the expectations and we had summer plans that we had to change. We weren't expecting to start two weeks after graduation," Sherri noted.
With such a limited amount of time before moving her son out of the house and onto that college campus, Sherri started to understand the anxiety many parents have when it comes time to let their first child go.
She just had to experience it in a much shorter timeframe.
A helpful transition
"You spend 18 years trying to equip them to go off and do all the things they need to do as an adult. We were very prepared to send him to school, that was not the hard part. The transition just came a whole lot quicker than we expected," Sherri added.
Parker handled the transition very well, Sherri explained, and he had plenty of support from a special group of people on campus at Georgia Tech.
The Gordy family had heard about the Baptist Collegiate Ministries from friends who already had children at Tech. Parker even made his first visit to the ministry center on Techwood Drive before settling on attending school in Atlanta and already felt like that ministry would be important for him.
"When we were visiting colleges, we reached out to them and they were so, so helpful," Sherri beamed.
During that visit, Parker had the opportunity to see students doing ministry around Tech's campus while also spending the night at the center.
The relationship Parker built up with the BCM and some of the students there in February of his senior year at South Effingham High School would serve him and his family well as they had to hastily transition from high school graduation to college admission.
"He knew that he could continue to serve in ministry and grow in the Word and do things that he knew he was called to do," Sherri said. "That had nothing to do with us. That was all students there."
Different education threads
Parker is studying mechanical engineering at Tech, but his spiritual education has perhaps surpassed his academic education in many ways.
"He was walked so far in his walk with the Lord in this past year. He understands there's this great big world out there and he is called to serve and teach in that world. I don't know if you can find that at every campus and that's what you pray for your child," Sherri observed, fighting back joyful tears as she spoke.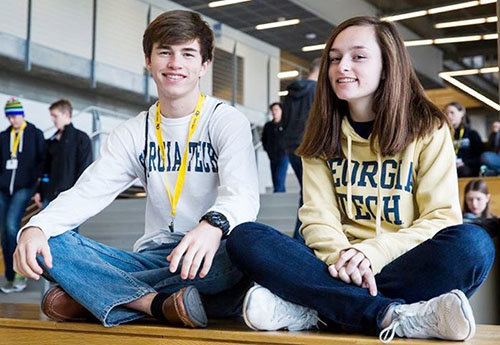 Parker's sister, Hannah Gordy, supports her brother during Siblings Day at a Georgia Tech event. SHERRY GORDY/Special[/caption]
"My son is at one of the greatest schools in the country, and that is a feat in and of itself, and that does not compare to him being 19 years old and being as steady in his walk and in his faith at this age. He's got us beat by leaps and bounds," Sherri added, admitting she and her husband's own college years were spent in a very different place spiritually.
Warren Skinner, senior campus minister at Tech's BCM, has even asked Parker to serve in various capacities. Whether it be through music in a worship band or through service around the center, Parker is putting his faith to work daily through the BCM and around Georgia Tech.
It is this evidence of spiritual growth and the fact that her son has willingly chosen to follow the Lord in such a bold way that Sherri is most proud of.
"College is a time where you can live a lot of different lifestyles," Sherri acknowledged. "He could've chosen several different things to go and do, but we couldn't be more pleased that he's chosen this one."
BCMs throughout Georgia
Baptist Collegiate Ministries are on most every campus in the state of Georgia with dedicated campus ministers like Skinner and others who give their lives in service to collegians.
Doug and Sherri both heaped ample praises on Skinner, affectionately calling him "Wally" like many of Tech's students do, saying that: "Every percentage of a budget that goes into these programs is not wasted."
The Baptist Center on campus at Georgia Tech is located at 740 Techwood Drive in Atlanta, in the shadow of Bobby Dodd Stadium, and regularly sees hundreds of students flow through its doors every year.
Even with the academic rigors of Georgia Tech, one of the most prestigious engineering schools in the world and one of the most difficult college experiences a student can hope to undergo, the students who step through the BCM at Tech are sure to receive the same exceptional quality of spiritual guidance as they would calculus instruction in the classroom.
"I get a sense from these kids at the BCM that they all want to walk in a way that honors the Lord and you just don't really find that in a lot of places," Sherri stated. "A lot of kids are playing church … but we get the sense that these kids all really want to be there.
"These are the people is going to be doing life with for four or five or more years. We are so blessed that this place is even there."
---
Adam Wynn works in the Collegiate Ministries department of the Georgia Baptist Mission Board.