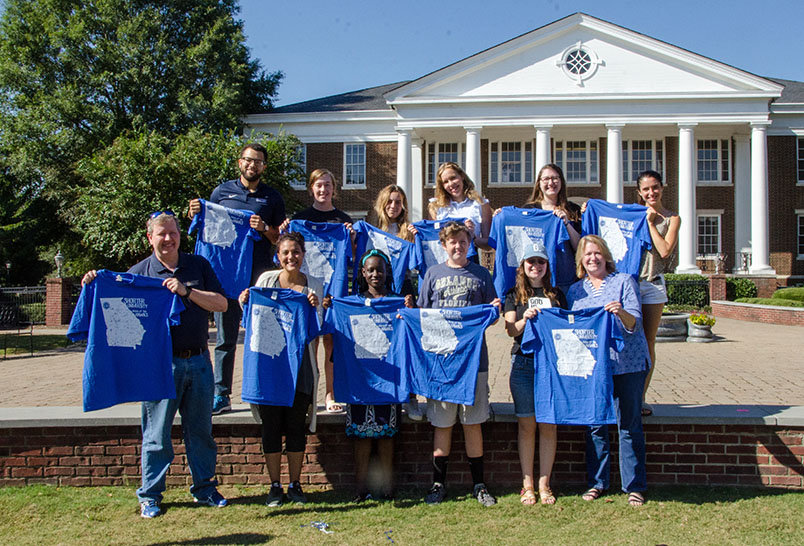 Pictured are: first row, Ben LeVan (CSU professor of human resources), Nathania Lacerda (Brazil), Busola Bamidele-Oseni (Nigeria), Dawson LeVan, Nadezhda Ivanova (Bulgaria), and Stephanie LeVan (CSU's director of international programs); second row, Kevin Coriolan (CSU's director of student activities), Ellen Hume (United Kingdom), Xus Boira (Spain), Jemima Backman (Finland), Julia LeVan, and Georgina Russell (United Kingdom).[/caption]
By Dawn Tolbert
Blue skies welcomed the international students and staff members from Charleston Southern who took refuge at Shorter University after being evacuated because of Hurricane Florence.
Shorter hosted seven international students from CSU along with Kevin Coriolan, CSU's director of student activities; Ben LeVan, professor of human resources; Stephanie LeVan, director of international programs; and the LeVans' children, Julia and Dawson. The students are from Brazil, Bulgaria, Finland, Nigeria, Spain, and the United Kingdom.
"We feel so blessed that Shorter University not only agreed to take us in during the evacuation for Hurricane Florence, but did so enthusiastically and with joy," Mrs. LeVan said. "They have made us feel welcome from the moment we arrived. Multiple people came up to introduce themselves to us and offer assistance if needed.
"Our rooms were beautiful and the Dining Hall was exceptional," she added. "They even thought of our need for laundry facilities and opened their fitness center to us. Shorter even accommodated our dog! Thank you, Shorter University, for all you have done for us!"
The CSU group returned to Charleston yesterday, Sept. 17.
---
Dawn Tolbert serves as associate vice president for University Communications at Shorter.