CLAYTON – Ollie O'Bannon is eight years old. And she's already got bigger plans for the Kingdom than most adults.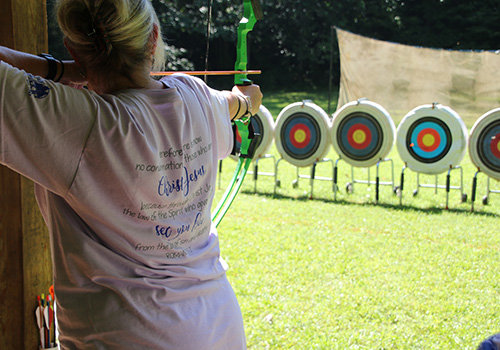 Moms got in on the fun during Camp Pinnacle's Mom and Me Two Night. MYRIAH SNYDER/Index
"It makes me feel like one day I'll be a missionary. I want to go to a country that needs help. I want to be a missionary doctor," she authoritatively said.
These plans were encouraged in her heart partly because of her involvement in Camp Pinnacle, a missions-focused, girls-only camp put on by the Georgia Women's Missionary Union.
Ollie and her mom, Courtney spent a long weekend at one of Camp Pinnacle's Mom and Me Two Nights. There, surrounded by mountains of Clayton, they were both immersed in a weekend of missions, with the focus for the week on Deaf Peoples.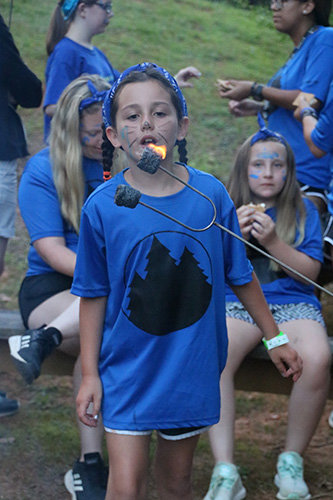 Roasting marshmallows and making s'mores during campfire time is a favorite activity of girls at Camp Pinnacle. MYRIAH SNYDER/Index
Ollie, whose family are members of Life Church in Athens was enthused about roasting marshmallows and Color Wars – or camp competitions – she added, "It's especially fun because you get to bond with your mom."
Her mom loves that the camp is so "missionally focused." "It helps us to realize that people out there need Jesus and she (Ollie) will be one to share the Gospel with many," Courtney said.
So far this summer, Camp Pinnacle has had nearly 670 campers come through and seen 30 decisions for Christ. These campers have come from 178 different churches, not including the churches the counselors are from.
Pinnace serves girls in grades K5-12th grade, dividing the weeks and activities up for younger and older girls. Camp Pinnacle provides Mom and Me Overnights, Mom and Teen Overnights, Mom and Me Two Nights, and traditional week-long camp. This year, the theme for K5-6th grade was "Set Free," based on Rom. 8:1-2 and "Unafraid" for girls in 7th-12th grades, based on Psalm 27:1.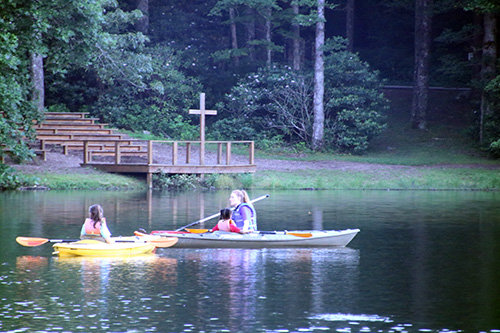 One of the many "camptivities" offered on Camp Pinnacle's campus that's nestled in the mountains is kayaking. Moms got in on the fun during Camp Pinnacle's Mom and Me Two Night. MYRIAH SNYDER/Index
While the weeks are structured slightly differently than the weekends, each camper that comes through during the summer has an opportunity to hear from missionaries, be taught about the culture of Deaf Peoples (for summer 2019), participate in "camptivities" which include pottery, archery, kayaking, water games, learning American Sign Language, and more, have JAM (Jesus and me) time – a time of personal devotion, fellowship around a campfire, and many other projects and things.
This year, the girls caught the vision to reach Deaf Peoples as they learned that they are largely a "hidden culture" and a "culture within a culture" meaning that that Deaf Peoples are often not seen and recognized. The campers collected nearly $4,000 for the StoryOne Project Sign Language Scripture Project and the Georgia Baptist Conference of the Deaf.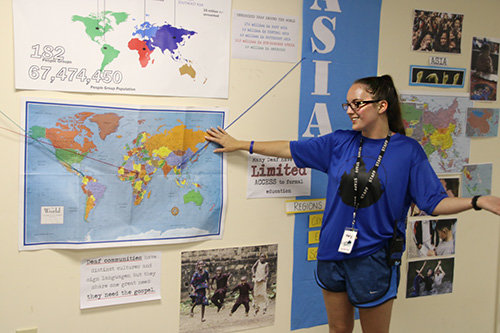 Mary Stevens, a unit leader, explains some about Deaf culture. Deaf Peoples are the missions focus for the 2019 season. MYRIAH SNYDER/Index
And while campers come away from the week energized and inspired, the staff also leaves the camp different.
"I love being able to teach girls about a culture, because in the process, I get to learn about a culture too," Mary Stevens, a member of North Metro Baptist Church in Lawrenceville, shared. She's in her second year working as a Unit leader at camp.
She continued, "I love being at a camp where it is so mission focused, because we just get to talk to girls about all the unreached people groups who still need to know Jesus. It's been really cool, because we learn a lot too. We get to see the kids eyes light up when they learn something new."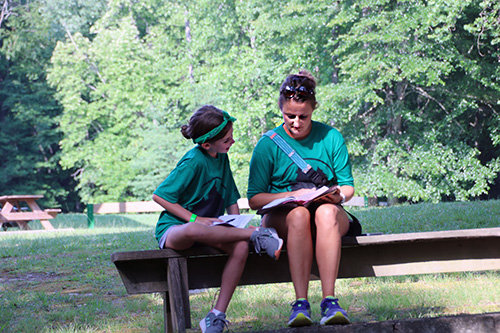 A mom and daughter duo take a moment to study scripture together during JAM (Jesus and Me) time. MYRIAH SNYDER/Index
Stevens shared that she particularly loves seeing the campers come back each year and how the Lord has worked in their lives in the past 12 months.
"We're really wanting to teach girls about God's heart for the world, and how He loves the nations and wants them to come to Him," Tabitha Ferrell, Camp Pinnacle director, shared. "We have a part in that as believers to further God's kingdom."
She added, "Our purpose is to create an environment where girls can experience God, and we also want them to develop a heart for the nations like He has."