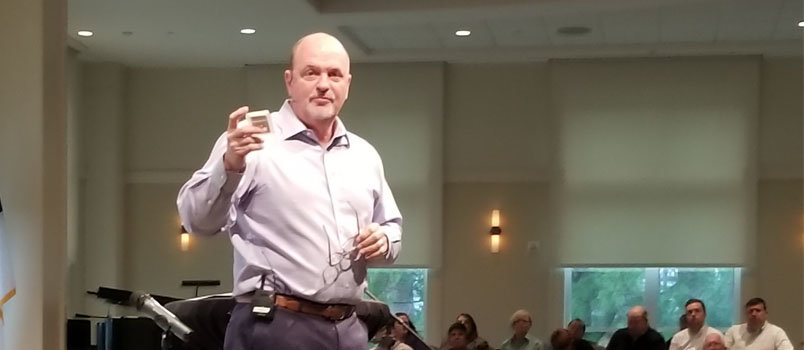 Georgia Baptist Executive Director W. Thomas Hammond, Jr., holds a widow's mite replica while addressing Mission Board staff on Jan. 3. The widow's mite (Luke 21) serves as a reminder, he said, of Georgia Baptists' sacrificial giving and the Mission Board's responsibility in using those funds wisely. SCOTT BARKLEY/Index
DULUTH — Recently-released Cooperative Program figures point to the urgency for the Georgia Baptist Mission Board in strengthening churches and supporting pastors, said Executive Director W. Thomas Hammond, Jr.
In 2018 Georgia Baptists gave $40,004,756.38 to the Cooperative Program – a 2.06 percent decrease, or $842,007.60 – compared to the $40,846,763.98 given in 2017. Moreover, that final giving number for 2018 also reflects a 2.9 percent shortage, or $1,195,243.62, toward the $41.2 million budget adopted by Georgia Baptists for that year. December, traditionally the largest-giving month of the year, registered a notable decrease from 2017 to 2018 of 4.26 percent ($269,750.59) toward CP.
On the other hand, gifts toward Mission Georgia increased from 2017 to 2018 by 2.02 percent ($26,048.98), from $1,264,051.54 to $1,290,100.52.
"The importance of the vitality of our churches and pastors cannot be overstated," Hammond pointed out. "This calls for our entire focus in helping them get stronger and healthier.
"Pastors are our heroes. Churches are our priority. Georgia is our mission field. To live up to this, the Mission Board is going to work at being closer to our churches. And, we're going to do this as effectively and efficiently as possible."
Steps to accomplish this will include a narrowing of the Mission Board's focus while restructuring staff over the next few months, he said.
Currently, there are approximately 170 state missionaries serving through the Georgia Baptist Mission Board.
"Vital signs in most of our churches are going in the wrong direction. As a result, these circumstance are compelling us to do things much different than we've done in the past," Hammond added.
"I'm asking all Georgia Baptists to be praying for God to grant us wisdom as we make these critical decisions in the days ahead."