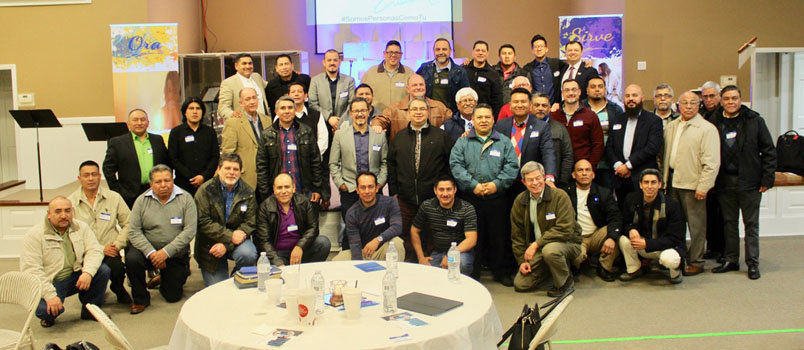 Pastor Javier Chavez of Amistad Critiana International Church in Gainesville counted 39 of 41 North Georgia Hispanic congregations being represented at the Feb. 5 Listening Session. CRISTAL PRADO/Special
GAINESVILLE — The first text hit Javier Chavez's phone around 5:30 a.m. Wednesday morning. It would be the first of many by fellow Hispanic pastors, excited about the conversations that had taken place mere hours before.
Approximately 129 pastors, spouses, and ministry lay leaders filled Amistad Cristiana International Church Tuesday evening, Mar. 5 for the most recent Listening Session hosted by Georgia Baptist Executive Director W. Thomas Hammond, Jr. The event, by a large measure the most well-attended so far, was one of several recently-added sessions that have served as sounding boards for pastors since the first one held Jan. 21 at First Baptist Church in Lyons.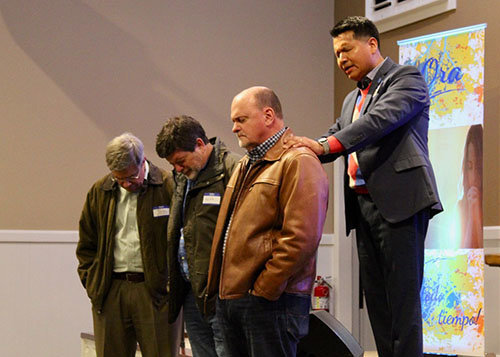 Javier Chavez prayers over, left to right, Chattahoochee Association missions strategist Jojo Thompson, Habersham Association missions strategist Keith Ivey, and Georgia Baptist executive director Thomas Hammond. CRISTAL PRADO/Special
Upcoming sessions featuring non-Anglo ministers include one at Sugarloaf Korean Baptist Church in Suwanee on March 12 (4 p.m.), a just-added session at First Baptist Pembroke for Hispanic pastors in South Georgia on March 14 (6 p.m.), and another at Emmanuel Community Church in Conyers, a predominately African-American congregation, on March 21 (10:30 a.m.). Christ Covenant Church in Atlanta is also hosting one of the additional listening sessions on March 13 (10:30 a.m.).
A 'historic' meeting
"It was an amazing experience," testified Chavez, pastor of Amistad Cristiana, who spearheaded planning for the event in only 15 days. "It was very important and historic that a Listening Session was done in Spanish."
Chavez noted the high participation – that out of 41 north Georgia Hispanic congregations, 39 participated. Those congregations represented 13 Latin American countries.
"I was expecting a good response, but not quite that good," he admitted. "You could feel like you were part of Latin America that night, my friend."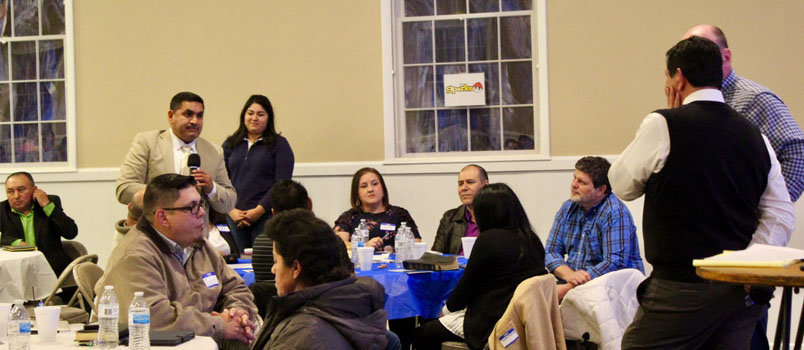 Georgia Baptist Intercultural Missions Ministry leader Dennis Rivera, back to camera, served as interpreter during the general discussion time. CRISTAL PRADO/Special
Extra steps to invite pastors joined making contact by phone, email, and social media. On Tuesday, Chavez made the two-hour drive to Dalton to extend a personal invitation to pastors, even providing a ride as well as place to sleep at his home that night.
Georgia Baptist Intercultural Missions Ministry state missionary Dennis Rivera served as the interpreter for Hammond.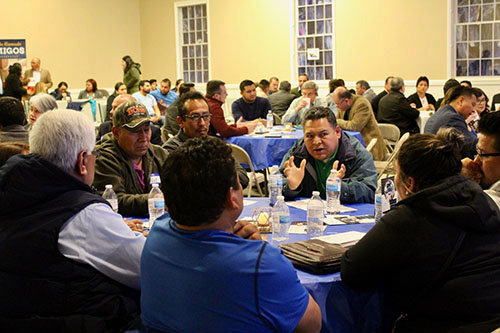 Pastors discuss a question probing the effectiveness of the Georgia Baptist Mission Board before sharing with the larger group. CRISTAL PRADO/Special
"My prayer going in was that pastors who might be introverts and reluctant to talk would express themselves," he said. "It was a joy to see that happen and the night as a success."
Discussions upon which to build
Although the session ended at 8:30, Rivera stayed until 10:30 talking with pastors.
"The guys are really excited. This is the first time many of them have been asked what they think," Rivera stated.
Harris Malcom, Georgia Baptist state missionary, said the gathering was well-organized. "The pastors became very involved in the discussions," he added. "At the end many stayed around asking what they could do to get things going."
The night began with a dinner of authentic Mexican food and worship. Then, pastors were given questions to guide them in discussions regarding the effectiveness of the Mission Board before presenting the responses too Hammond and Rivera.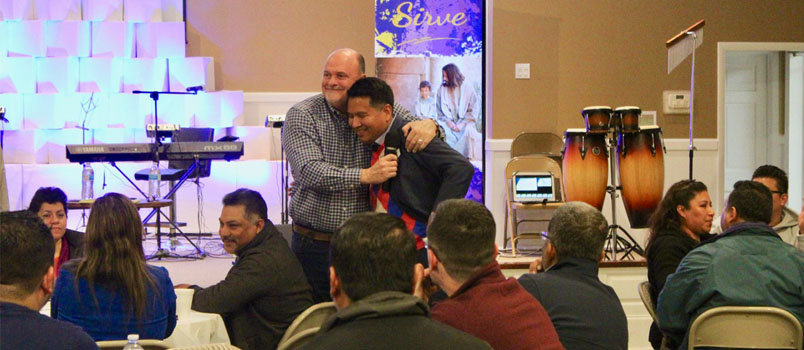 Georgia Baptist Executive Director Thomas Hammond, left, and Gainesville pastor Javier Chavez, joined others in bringing about the Gainesville Listening Session with only about 15 days notice. CRISTAL PRADO/Special
"It was a tremendous night of fantastic fellowship and learning how the Georgia Baptist Mission Board can better serve our Hispanic pastors," Hammond said. "I'm eagerly looking forward to continuing the conversation, planning our next steps to help strengthen those churches, and becoming more active partners in ministry alongside them."
That's a welcome sentiment for Hispanic pastors to hear, Chavez expressed. Throughout the day his phone continued to alert him to another text, another excited pastor. More often than not, it also included a question.
"They all wanted to know, " said Chavez, "'what's next?'"