VILLA RICA — Georgia Baptist Convention president Thomas Hammond,  pastor of Alpharetta's First Baptist Church, is a man of vision and purpose with the ability to motivate people. Those qualities were on display at First Baptist Church Villa Rica on Thursday at the first of five Unite Georgia Pastors' Prayer Luncheons.
Hammond is convinced that united Georgia Baptist pastors can wield great power. Also, if Georgia Baptist pastors will pray together and for each other unity will become a reality and the power of the Holy Spirit will ensue.
After a welcome from host pastor Kevin Williams, Hammond declared, "Georgia is winnable for Jesus. When more than one in ten Georgians is a Baptist we know this state is reachable for Christ. We must do it together. That is why we came up with the theme Unite Georgia.
"My wife, Kerry, and I have two grown daughters. This spring they said, 'Let's all run in the Peachtree Road Race.' I thought that was a cool idea, primarily because I had no idea we would all be accepted to participate in the race. But we got our numbers and all of us were accepted as race participants.
"We decided to make a day of it," Hammond added. "We got in our group and when the tape was cut for our group to begin the race we started to jog. Amazingly, there were people standing on the sidewalk all along the route of the race screaming for us and shouting things like, 'You can do it! Keep it up! Run! Run! Run!' These people I didn't even know were cheering for us. We were motivated by their encouragement and ran much farther than I ever thought possible."
Encourage and celebrate
"We need to cheer for each other. We need to encourage each other. My identity is not in how big our buildings are, how many we have in attendance, or the size of our church offerings," he said. "My identity is in Christ. Let us pray for each other, our marriages, and our families. I want us to cheer each other on. I want us to celebrate each other's victories.
"There is a term called 'synergy.' Synergy signifies the increased effectiveness that results when two or more people work together. In Ecclesiastes 4:9 the Bible says, 'Two are better than one, because they have good reward for their labor.'"
Hammond stated, "Jesus prayed in John 17 'I pray not only for these, but also for those who believe in Me through their message. May they all be one, as You Father, are in Me and I in You. May they also be one in Us, so the world may believe You sent Me.'"
The GBC president declared, "Lost people aren't going to want to be a part of a church in a fight or where there is conflict. So, we need to pray for one another and bless one another. And we need to unite to pray for our nation and the upcoming general election because we are living in a nation with a heart that seems to be turned away from God."
More than 100 attendees prayed one for another in groups of six or eight. Together, they were led in prayer by different pastors.
Praying for each other
Hammond stressed the importance of pastors praying for pastors, because according to LifeWay Christian Resources' research, pastors work 55-70 hours a week with one-third of them saying the ministry is hazardous to their family. Hammond indicated that 90 percent of those in ministry say the ministry is different from what they thought it would be.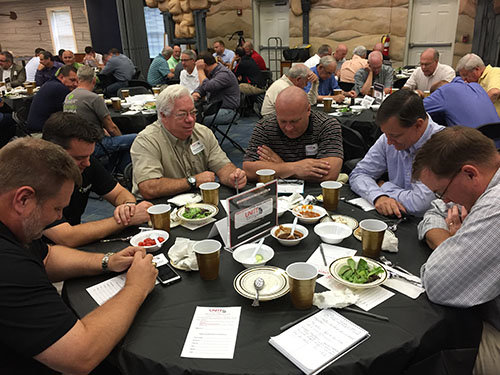 Pastor's at prayer, left to right, include Jeff Overton, Will Murray, and Terry Perryman, who serve at Beulah Baptist Church in Douglasville; Chris Lockhart, of Picketts Mill Baptist Church in Dallas; and Marty McClain and Tyler Brown, of West Hills in Villa Rica. GERALD HARRIS/Index[/caption]
The point? Pastors understand the challenges and trials of fellow pastors and can knowingly pray for them with passion.
Hammond also called up those present for the gathering to pray for the state and nation. "Georgia is transitioning and not always for the good of our citizens," he explained. "Our governor vetoed the religious liberty bill because he listened to the Chamber of Commerce, Hollywood, and the Falcons. Arthur Blank (owner of the Atlanta Falcons) needs to be more concerned about putting a winner on the field than putting his energy in the religious liberty issue.
"It is true that three percent of our population is influencing our decisions and determining our future. How is the LBGT community able to do it? They are united."
The Big Invite
After another season of prayer Hammond announced his vision for getting one million people in our Georgia Baptist churches on Easter Sunday 2017. He explained, "If we can get two-thirds of our churches (2,500 of them) to invite 400 households (which would amount to one million homes) to attend the Easter services that would average out to invitations to 3.6 million people (based on 3.6 persons per household).
"If we invite them some of the will come. I hope you will lead your church to be engaged in 'The Big Invite' prior to Easter next year."
The ministers who attended the meeting at First Baptist Villa Rica were treated to a sumptuous steak luncheon, complete with all the appropriate side items and a luscious dessert. The food, service, and hospitality of the First Baptist staff and members was incredible, but it appeared that the pastors left the meeting inspired and challenged to unite in prayer. It was a meeting of great value and spiritual significance.
---
Unite Georgia gatherings
September 1
Host Robby Foster, pastor, Convention 1st vice president
200 East Park Avenue
Valdosta, GA 31602
RSVP: sallyb@nbcvaldosta.org or 229.242.4940 by August 26
September 8
First Baptist Church Hazlehurst
Host Brad Waters, pastor, Convention 3rd vice president
30 N Tallahassee Street
Hazlehurst, GA 31539
RSVP: felicia@fbchazlehurst.org or 912.375.3333 by September 2
October 10
First Baptist Church Alpharetta
Host Thomas Hammond, pastor, Convention president
44 Academy Street
Alpharetta, GA 30009
RSVP: lleathers@fbca.com or 678.867.7305 by October 4
November 3
Host Mark Sterling, pastor, Convention 4th vice president
1348 Broad Street
Augusta, GA 30901
RSVP: jhitt@curtisbaptist.org or 706-722-7348 by October 28