Photo above: Buck Burch chats with Josh, a Duluth office worker, in this 2016 file photo. The cross in front of the Missions and Ministry Center had been determined a "gym" for Pokemon GO players such as Josh. BRYAN NOWAK/Special
DULUTH — A church's connection to missions has an unmistakable impact on other areas such as discipleship and evangelism. This is something Buck Burch has seen play out again and again.  
Burch observed it as an International Mission Board appointee to Russia for 13 years. Since 2011, he's witnessed it in Georgia Baptist churches as a state missionary in Cooperative Program Development. In his new role as Mission Catalyst for Church Strengthening at the Georgia Baptist Mission Board, he's eager to play a more direct role to helping churches grow in their missions involvement.
Church health, he asserts, doesn't have to be focused on numbers, but "engagement and missions."
As part of the current restructuring of the Georgia Baptist Mission Board, Burch will serve alongside four other catalysts – Evangelism, Discipleship, Next Gen, and Music & Worship – as part of the Church Strengthening team lead by Mark Marshall. Longtime Georgia Baptist pastor Levi Skipper was announced as the Evangelism Catalyst last month. Each catalyst will have a team of consultants, one in each of the six drawn-up ministry regions throughout the state.
Partnerships crucial
"My role is to serve as the strategic thinker and coordinator of those consultants," says Burch. "but also as chief liaison between the GBMB, IMB, and North American Mission Board."
That work is done in partnership with Georgia Baptist associations and associational mission strategists, he stresses. He added how the importance of their existing relationships with local pastors cannot be overstated.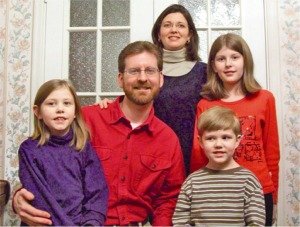 In this photo that appeared in the April 28, 2005 edition of The Index, Buck and Leslie Burch pose with their children Amielle, left, and Luke and Ashlyn, right. BURCH FAMILY/Special
"Associations are the gatekeepers for our local churches in the areas of fellowship and biblical accountability. Historically, churches don't become part of the Georgia Baptist Convention without coming through the association. They're the frontline warriors and face some issues that might not ever get known if not for their involvement with congregations."
Gauging success tends to drift toward numbers. And while it is true he'd like to see a larger number of churches become involved in missions, it's not how Burch necessarily defines success.
"Activity doesn't mean growth," he says. "I want to see clear, spiritual growth. Missions affects discipleship, because when you see a greater level of it in a person, it's likely they're involved in missions. It also bleeds into evangelism. By nature, when a church is active in missions it's seeing people come to Christ. As a result of that, an influx of new believers come into the church for baptism. That leads to increase in other areas such as prayer and spiritual vitality."
Local, state, national, international missions
In the mid-90s Burch led mission teams to Mexico and Canada. The excitement over the Gospel those excursions generated for participants while he was pastor at Bethel Baptist in Eastman and then associate pastor at Southside Baptist in Hazlehurst eventually led to his going to Russia.

Buck Burch
After living in the city of Bryansk, Burch and his wife, Leslie, moved to St. Petersburg and worked to establish a church-planting team. Eventually, the IMB asked Burch to move into leadership and coordinate its 19 church planting teams throughout European Russia. Already a Master of Divinity graduate from Southeastern Baptist Theological Seminary, Burch completed his Master of Science in Organizational Leadership from Regis University while on the mission field and his Master of Theology in Missiology, also from Southeastern.
"Missions is part of an overall strategy for church strengthening, one of five crucial areas for it," he says. "Our hope is to help churches regain a biblical approach to growth."
That growth comes through churches engaging in local, state, national, and international missions. "I've been encouraged by the conversations we've had with Paul Chitwood. I really believe these are going to help take Georgia Baptist missions involvement to the next level. It will raise the bar not only for involvement, but for the harvest Jesus spoke about that would come from those workers."
A mission about to move
He's seen other groups in a church play a direct role in that engagement. For instance, Burch did his own study on churches with an active Woman's Missionary Union and missions giving. He discovered that churches with WMU gave twice as much to missions than churches without a WMU of comparative size.
"With women's ministry engaging throughout the state, this will help bring along the Next Generation in being active in missions," he says.
I really believe these are going to help take Georgia Baptist missions involvement to the next level.
Such steps, he continues, will "result in more people being saved, more disciples being grown, and more churches planted as a result of intentional missions involvement."
The restructuring, he believes, will better position the local church to becoming more involved in missions. Therefore, Burch sees churches becoming more connected to how God is about to move in Georgia.
"I firmly believe every church has been tasked with Acts 1:8. If a church is currently engaging in a partnership, we want to come alongside them and help connect them with sister churches without those resources. We want to help facilitate that networking process I think can eventually foster church planting groups in countries that bring thousands to Christ."