DULUTH — John Courtney has an idea. Actually, he has several.
Those ideas can't be shared fully just yet. But Courtney, recently named the lead strategist for Research and Development of the Georgia Baptist Mission Board, plans on utilizing his marketing experience for two of the best-known names in Southern Baptist life to make Georgia more familiar with GBMB work.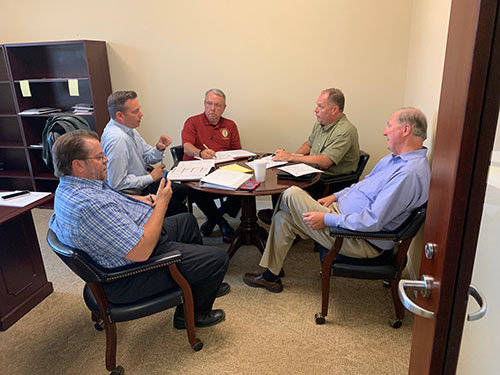 John Courtney, left in long-sleeved shirt, takes part in a meeting in his office with, clockwise, Georgia Baptist state missionaries Ricky Thrasher, Mark Strange, Steve Parr, and Tom Crites. SCOTT BARKLEY/Index
"I really feel God has prepared me for this," he said recently over lunch at Jim 'N Nicks Bar-B-Que in Suwanee. "Georgia Baptists are positioned to make an impact in our culture for Christ. My role is to coordinate the development of resources and tools to help them better understand and engage others for Christ."
Georgia Baptist Executive Director W. Thomas Hammond Jr. announced the department's formation as part of the overall Mission Board restructuring announced earlier this year.
"Research and Development will lead ministries related to Communications, Research, Cooperative Program, and Resource Development," he said. "Each of these areas will provide support for all ministry areas as the transition to the new structure continues."
Experience includes time with Charles Stanley, James Merritt
A native of Thomasville, Courtney earned a Bachelor of Arts at Valdosta State University before gaining his Master of Divinity at New Orleans Baptist Theological Seminary in 2004. He would go on to become director of Payroll and Personnel at NOBTS, remaining in that role for six years before joining Westpoint Church in Orlando, Florida as administrative pastor. In January 2006 he accepted the call to become pastor at GracePointe Church in Buford.
In March 2007, Courtney joined Charles Stanley's In Touch Ministries as vice president of Marketing and Development. His responsibilities included supervising the daily operations of the multi-million-dollar organization as well as developing strategies for effectiveness. While at In Touch, Courtney oversaw two award-winning magazines and led marketing efforts that produced two books placing on the New York Times Best Sellars list while managing the organizations various TV, radio, web, digital, and social channels.
For the last two years he has served as president of Touching Lives, the signature ministry of James Merritt, pastor of Cross Pointe Church in Duluth. In that role he oversaw daily administrative operations including donor relations, growth initiatives, and vendor management. Other responsibilities included establishing operational improvements to drive efficiency while cutting costs.
To equip and connect
It's important for the numerous departments of the Georgia Baptist Mission Board to communicate with churches. Courtney doesn't dispute this. What he'd like to see, though, is a bit more streamlining in the process.
"I'm a big fan of 'less is more,'" he said. "We want to utilize wisely those platforms specific to different Georgia Baptists in order to for them to know what the Mission Board is doing. And by extension, we want them to have a clearer picture of how the Mission Board is there for them."
Those examples include ministers taking advantage of training opportunities through the Mission Board and assistance for personal retreats. This fall, Church Minister Relations has partnered with Pastor Michael Catt of Sherwood Baptist Church in Albany to provide scholarships for its Refresh Conference.
"We want to champion our pastors and give them every tool they need to reach their communities and equip their people," Courtney added. "We're going to assess better methods for social media, video, and other methods.
"Many Mission Board resources are in place, but we'll continue to develop more and find efficient ways to be sure pastors are aware of them."