By Jenny Gregory
CLEVELAND, Ga. – Tony Perkins, president of the Family Research Council, ordained minister, USMC veteran, and nationally recognized speaker delivered Truett McConnell University's commencement address to 143 bachelor's and master's degree candidates, Saturday, May 11.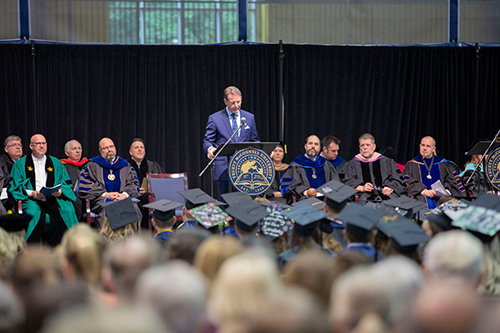 Tony Perkins, President of the Family Research Council addresses TMU's largest graduating class in school history. TMU
The class of 2019 carried great significance, not only as the school's largest graduating class but as the 70th anniversary of their first graduation. Truett McConnell President Emir Caner welcomed friends and family by saying, "this is an incredibly special day as we are honored to have five of the twenty-six members of the original Truett McConnell graduating class: John Carpenter, Betty Sue Hawkins Carpenter, Betty Highsmith, Virgil Hunt, Jr., and Ethelene Dyer Jones."
"Graduates you now enter into the next seven decades," said Caner, "as you become the 71st class to walk across this stage."
A charge from Perkins
After a brief introduction from Caner, Perkins took the podium amid the welcoming applause, thanking everyone for the honor of speaking to this year's graduating class of TMU students.
"Graduates, you have studied hard and you have excelled in challenging work," said Perkins. "You have established life-long friendships and some of you may have even met your spouse or future spouse. But all of you have done one thing. You have studied the Bible and you have leaned into God's truth and I trust you have grown in the faith."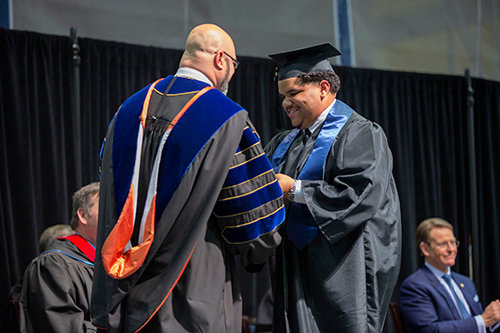 Alex Parker receives his Bachelor's in Business Administration from President Emir Caner during the commencement ceremony. TMU
Perkins charged graduates that as they leave Truett McConnell, they will be "strong and courageous in the Lord" and always have the "courage to stand on holy ground" as he referenced Joshua in the Bible. "The courage that Joshua was commanded to have was not to face the giants of the land, but to face our own fallen nature."
Perkins concluded by telling the graduates "my prayer and my message for you today is simple­ – that you would have the courage to be obedient to God wherever He leads you."
Honoring graduates
Truett McConnell's Felix Manz School of Music Chamber Singers, led by Kenneth Gabrielse, Professor of Music, followed Perkins by performing "O Church Arise," an arrangement by Keith and Kristyn Getty.
John Yarborough, TMU's director of alumni relations and public policy, echoed blessings to each graduate and welcomed them into the school's alumni association, reminding them to represent and recruit for Truett McConnell University as they leave campus and to come home often.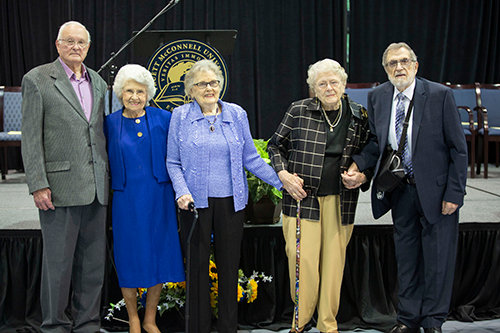 Pioneer members of the very first graduating class at Truett McConnell pose together before the ceremony begins. TMU
"We welcome you to the Alumni Association and we ask you to constantly keep this school in your prayers," he said. "I pray that you will not only start well, as you have, but that you finish the race well; God bless and welcome alumni."
Brad Reynolds, TMU's vice president for academic services then presented the bachelor's and master's degree candidates to the university's president who then awarded those candidates with their degree as they walked across the stage. Those receiving Master of Education and Master of Arts in Professional Counseling degrees were the first in the school's history.
A special posthumous degree was received by family in honor of Richard Chris Scarborough at what would have been his graduation ceremony. Caner confirmed upon Scarborough a bachelor's degree in Christian Studies.
After each graduate left the stage, Hank Humphrey, member of the TMU board of visitors, concluded the ceremony with a word of prayer.
---
Jenny Gregory is the Digital Content Specialist for Truett McConnell University.