The UGA Paint Line has become a prominent part of the atmosphere at Sanford Stadium since beginning more than 20 years ago. With most of its members active in Baptist Collegiate Ministries, the group also works to represent Christ in the way it operates. Photo courtesy of Slater Brown
---
ATHENS — Game day begins early and ends with trying to dig the last vestiges of red paint from their ears and fingernails.
It can be a pain, but that's the price of being part of UGA's Paint Line. You must commit. Being completely covered in the red and black is a sign of dedication and there is no room for pretenders.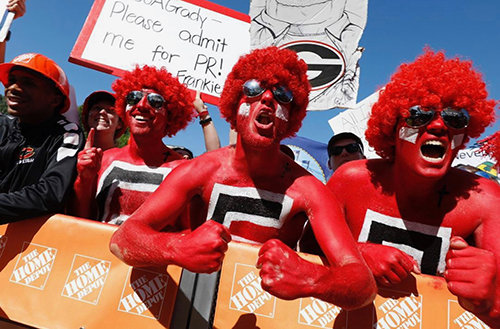 ESPN College Gameday's Sept. 21 appearance marked the first to Athens in six years. Students in UGA Paint Line got prominent camera time for the event. Photo courtesy of Slater Brown[/caption]
"The UGA Paint Line exists to show unwavering support for the Dawgs, create an atmosphere of family and camaraderie, and lead our fellow students with unprecedented passion," Slater Brown, the group's captain, reads from the back of their card. "in return, we hope our passion for the game represents our true passion for Jesus Christ and the advancement of His name."
"Vision: Colossians 3:23" then appears at the bottom of the card. It reads: "Work willingly at whatever you do, as though you were working for the Lord rather than for people."
While the Paint Line gets a lot of camera time at games – most recently during ESPN College Gameday's appearance in Athens Sept. 21 – it's not just a platform to support the Bulldogs.
A working partnership
"We believe it started somewhere around 1997 with some guys who spelled out DAWGS," said Brown, a senior in Business Management whose membership is at First Baptist Church in Douglas but attends Watkinsville Baptist when he's at school. Like the majority of Paint Line members, Brown is also active at UGA's Baptist Collegiate Ministries (BCM), where he plays in the worship band. The majority of Paint Line's members are not only active in BCM, but serve in leadership, he said.
"Paint Line wasn't originally a part of BCM, but its membership kind of shifted that way. The BCM gives us a place to meet and talk, and the majority of our members are involved there and on leadership."
While football obviously gives Paint Line its biggest stage, the group also has supported the university's basketball, gymnastics, and soccer teams. But their purpose, Brown adds, points to something much bigger.
"Our mission is very Christ-centric. As a whole, Paint Line rallies around that and appreciates the support BCM provides."
While the Paint Line seen on TV is typically made up of 13 bare-chested guys spelling out "Georgia Dawgs," there is also a collection of "paint girls" in the background who not only do the initial painting, but touch-up work on particularly hot days when the paint can run mid-game.
"When it's hot the guys will sweat and the paint run," said Carson Carter, one of the 'paint girls.' "Once during a game last year the S in 'Dawgs' kept looking bad and it was called out by ESPN."
Carter, a member of Ten Mile Creek Baptist Church in Baxley who also attends Prince Avenue Baptist in Bogart, serves as BCM director of Large Groups and Connections. Through that, she oversees major events throughout the year including Formal, Semi-formal, Welcome Week, and various retreats as well as take part in or help plan Spring Break trips and the annual Ride for Christ to the Florida game. Such events routinely include members of Paint Line.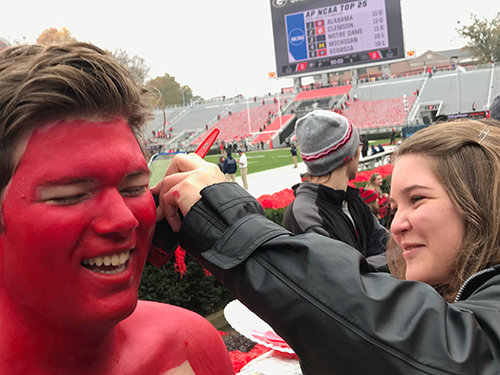 Carson Carter applies paint before a game. In addition to being a 'paint girl.' Carter is also the director at BCM with Large Groups and Connections, essentially leading in the planning and implementation of BCM's biggest events throughout the school year. Photo courtesy of Slater Brown[/caption]
While it may not directly appreciate Paint Line's connection to Jesus, ESPN cameras routinely found their way to the group on the Gameday set as they do during games. It's due to Paint Line's enthusiasm, sure, but also the group's commitment to represent Christ well and in so not producing vulgar messages or saying things into the camera that would require censors.
"We love football, but know there's something bigger than us," adds Carter. "We want to show Christ's love to people in everything we do. The messages on the guys' backs are something we take seriously and pray about."
Yes, in addition to "Georgia Dawgs" on the front, Paint Line also spells out a second message on their backs. Typically, it's a barb at the visiting team (Notre Dame's treatment was "#LuckRunsOut!). The group received nationwide attention from the week before, however, with a message of solidarity to that week's opponent, the Arkansas State Wolves.
On Aug. 19 ASU head coach Blake Anderson lost his wife, Wendy, to breast cancer. In recognition of that tragedy plus his wife's motherly presence to the Red Wolves football team, UGA fans and students held a "Pink Out" at the game in her honor. Bulldogs Battling Breast Cancer organized the show of support, encouraging fans to temporarily change over from red and black to pink. In addition to their customary "Georgia Dawgs" on front, Paint Line added "Remember Wendy" on their backs.
Though his team suffered a 55-0 defeat, Blake Anderson had nothing but praise for Bulldog nation as a whole afterwards.
"One of the classiest moves I've ever seen," he said at the post-game press conference. "They didn't know my wife and they don't know me, so they didn't have to do this. I'm very grateful, honored, and obviously overwhelmed."
Brown said Paint Line will also join BBBC and others at the Kentucky game in October, originally scheduled for this year's Pink-Out during Breast Cancer Awareness Month.
"As an organization we felt it important to show our love to Coach Anderson and the entire football team during this hard time," Brown added. "Arkansas State's BCM has a group that paints up as well. They contacted us and thank us for."
"These are students of integrity," state Jerry Johnson, UGA's BCM campus minister. "They've used this platform to advance the Gospel. Students who may not think they connect with BCM may do so through Paint Line. In that connection they find community, truth, and Christ."
"It becomes a way for others to get connected to BCM and a local church," notes Carter. "They grow in their faith and see what that looks like."
The idea is for that growth to lead to commitment, just as it does to be in Paint Line. Usually the group gets to Sanford Stadium two hours before kickoff to ensure a section in the front row (For the 8 p.m. game against the Irish they arrived at noon.). Paint that gets in your hair is tough to remove. It can stay under your fingernails for over a week. Members go days thinking they'd removed all of it from their ears only for someone to point out they missed a spot.
"While not a 'Christian organization,'" Brown points out, "Paint Line has a definite hands-and-feet appearance of Jesus. Col. 3:23 is our vision. In that stadium, we show our love for Christ through our love for the Dawgs."