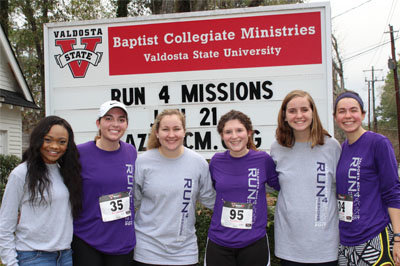 BCM Leadership Team members pose for a photo with some of the runners. Shown left to right are Sylandi Brown of Hinesville, Freshman Leadership Team member; runners Genoa Cody, Layne Brock, and Caitlin Heesh; Outreach Ministries Leader Hope Fitzwater; and Freshman Leadership Team member Ava Cassaniti. BETH FORD/Special[/caption]
VALDOSTA — Nearly 130 runners pounded the streets around Valdosta State University on Jan. 21 to raise money and awareness for summer missions. This year's event – one of the most popular in South Georgia – brought the second largest number of registrations with 145 and 128 of those crossing the finish line, said Campus Minister Jeff Ford.
Students raised nearly $5,000 toward their $13,001 goal for Send Me Now. The annual summer missions emphasis places collegians on the field across the nation and around the world.
Last year's goal of $12,345.67 was surpassed when students and their sponsors raised $14,081.41.
"The Valdosta Baptist Collegiate Ministry Run 4 Missions continues to be the breadwinner in the family of our campus fund raisers that Valdosta does each year," Ford noted. "Birthed in January 2012, the run seeks to bring together people of the Valdosta community and our students for a few hours on a Saturday morning."
It's also the event that brings the largest number of students together.
This year more than 60 volunteers on the Race Crew were in place to help runners and walkers find their way through the neighborhood streets of Valdosta.
The most volunteers are used on the course itself, to help direct participants at each turn.
"Members of the crew enjoying holding encouraging posters along the route and at least one will play motivating music at his or her station on the course. The runners love the attention and encouragement they receive to finish well," Ford added.
This was the sixth year for the fund raiser with students lining the entire four-mile course.