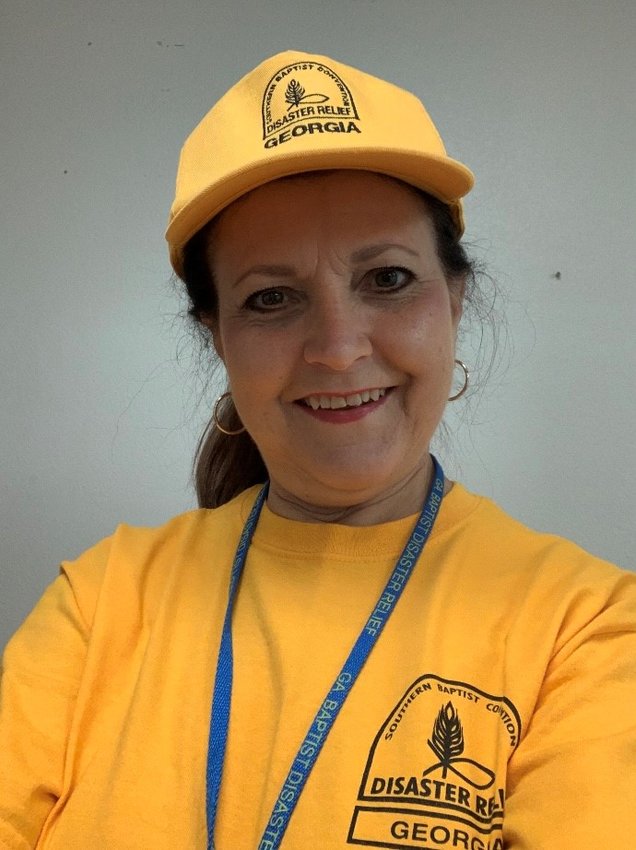 Gloria Harper Anderson
Volunteers with Georgia Baptist Disaster Relief pray with a victim of Hurricane Ida.


By ROGER ALFORD
The Christian Index

KENTWOOD, La. – Gloria Harper Anderson's friends suggested she take the day off after her near-death experience in the Louisiana hurricane zone, but the Georgia Baptist Disaster Relief volunteer wouldn't hear of it.

Anderson said the Lord is at work and she didn't want to miss a moment of it.

So far, Anderson and other Disaster Relief volunteers have seen more than 100 people along Hurricane Ida's trail of destruction become believers. The intensity of the storm with its heavy rains and relentless 150-mph winds had awakened many survivors to an awareness of God.

The Leesburg, Ga., woman was having breakfast with other Disaster Relief volunteers in Kentwood, La., when she choked on a piece of a sausage link. When she couldn't get it dislodged herself, she put her hand on her throat to signal other volunteers that she couldn't breathe. They tried the Heimlich maneuver, loosening the obstruction only enough to allow some oxygen through. EMTs wanted to take her to the hospital, but she managed to expel the rest of the obstruction herself.

What has stuck with Anderson from that experience on Sept. 11 is the blessing she would have missed if she had taken the day off. She and a teammate had driven up to a storm-damaged home. When she got out of the car, she met Robert Johnson, a Louisiana man who was helping his sister with cleanup. Another member of the Georgia team had shared the gospel with Johnson the day before and had given him a Bible. Johnson had seemed reluctant at the time.

But Johnson told Anderson he had read a portion of his new Bible during the night.

"There's a shade tree out in the yard; why don't we walk out there?" Anderson told the man. "It'll be cooler. Let's talk for just a few minutes."

Anderson, a member of Sherwood Baptist Church in Albany, Ga., shared with the man the ABCs of salvation, a very familiar discussion starter for evangelistic-minded Southern Baptists. "A. Admit that you're a sinner. B. Believe that Jesus Christ is the Son of God, that He died on the cross, and that He arose from the dead. C. Confess Jesus as your Savior and commit your life to following Him."

"Now Robert, I'm going to ask you if you'd like to pray," Anderson said. "But you must be sincere about it. The Lord knows your heart."

"I want to pray, but I don't know what to say," Johnson said.

"I can help you with that," Anderson replied.

Johnson prayed and professed Jesus as his Savior. He was the second person in two days who Anderson had introduced to Christ.

"I was thrilled," Anderson said. "There's no greater honor. To think He is trusting me to represent Him in times of disaster when people are so torn up and have lost maybe everything they've got, to think He's trusting me to be the one to go and take His love and let them know that He cares about them."
The Georgia Baptist Disaster Relief volunteers' willingness to help hurricane victims free of charge doesn't go unnoticed. So far, 33 of the Louisiana hurricane victims have been so moved by their kindness that they've decided to become Christians themselves. Disaster Relief crews deployed to Louisiana from other states are reporting similar experiences. So far, 100 people in Louisiana have become believers, as have another 19 in Pennsylvania, New York and New Jersey where flooding from the remnants of Hurricane Ida killed nearly 40 people.

Volunteer chainsaw crews from Georgia and other states still are working to remove trees from homes three weeks after the hurricane made landfall, causing billions of dollars in property damage.

Ricky Thrasher, head of Georgia Baptist Disaster Relief, said his crews are still in the town of Kentwood, still manning chainsaws to remove fallen trees, many of which are so large that it takes a full day to remove even one.

"They have done a great job," Thrasher said. "They've worked hard in tough circumstances, starting early each morning and going all day, working through extreme heat and humidity."

So far, Southern Baptist Disaster Relief crews have cooked nearly 700,000 meals, provided 259 temporary roofs, completed 600 chainsaw jobs, and handed out more than 900 Bibles. The Georgia brigades alone have covered 170 roofs and cut trees from 64 homes.

Thrasher said Georgia crews have been rotating in out of Louisiana since shortly after Ida made landfall on August 29. Many of the volunteers are retirees. Others have been taking vacation time from their regular jobs to help storm victims.

Georgia has more than 7,000 Disaster Relief volunteers who stand ready to go into disaster areas, leaving behind their own families for the sake of others. Their only pay, Thrasher said, is the good feeling they get from helping their fellow man.

Along with the chainsaw brigades, Georgia Baptist Disaster Relief also sent in volunteers to set up mobile laundromats and shower trailers where workers can clean their clothes and themselves. They also have set up a mobile feeding station.