DULUTH — North Georgia pastor Levi Skipper, long known throughout the state for his emphasis on evangelism, will hold the title of catalyst for that ministry as part of the Georgia Baptist Mission Board restructuring. Skipper has served as pastor of Concord Baptist Church in Clermont since 2010.
As the Mission Board's Evangelism catalyst, Skipper will work with the Evangelism consultant for each of the six state regions – Northwest, Northeast, West Central, East Central, Southwest, and Southeast. In addition, Skipper will also be working with Baptist Collegiate Ministries to help equip students and outreach on college campuses.
In the restructuring, Evangelism will be part of the Church Strengthening team to be led by former Nashville, Tennessee-area pastor Mark Marshall. Also on that team will be catalysts in Missions, Discipleship, Next Gen, and Music & Worship (see graphic).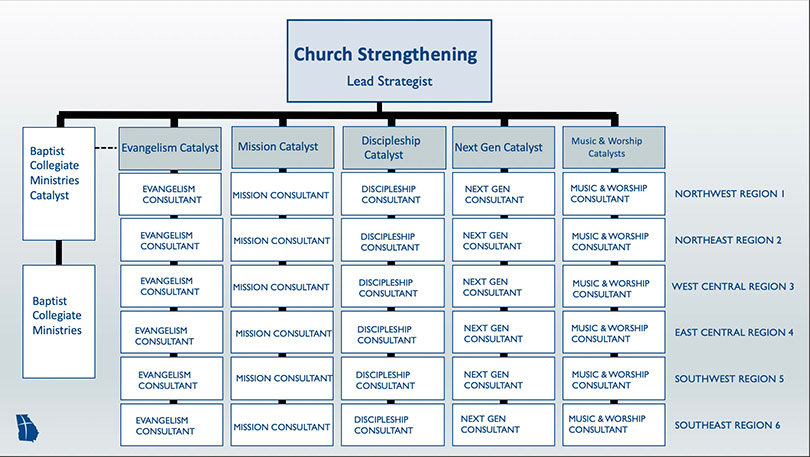 A graduate of Shorter College (now University) and New Orleans Baptist Theological Seminary, Skipper earned his Doctor of Ministry in 2009 from Luther Rice Seminary. His dissertation for that degree was "Biblical Management Principles to be Exercised in the Workplace to Increase Productivity and Build a Platform for Evangelism."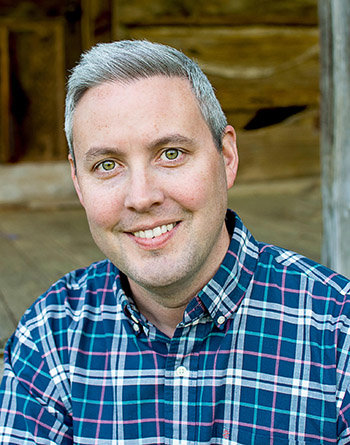 North Georgia pastor Levi Skipper, 41, has been named to the position of catalyst in Evangelism for the Georgia Baptist Mission Board.
During his undergraduate years at Shorter, Skipper served as youth pastor at First Baptist Cave Spring and college pastor at Fellowship Baptist Church in Rome. His tenure as youth pastor at First Baptist Church in Centerville preceded his first pastorate at Ewing Road Baptist Church in Austell.
At Ewing Road, Skipper led community outreach efforts through personal evangelism and churchwide events that spurred weekly growth from 60 to 225 in Sunday School and 100-325 in worship. He also grew church staff from zero to four, wrote church-wide Bible studies, took part in personal discipleship with church members, and initiated missions efforts to locations such as Cambodia, Belarus, Ethiopia, New York, and Louisiana.
While in Austell Skipper also founded First Day Ministry, a non-profit organization involved in preaching conferences throughout the Georgia Baptist Convention. Events included revivals, one day harvest gatherings, evangelistic crusades, and men's conferences. Mission trips to Africa and theological training schools for pastors and church leaders in Ethiopia and Kenya were also undertaken through the ministry.
During Skipper's time at Concord the church increased baptisms by 122% and Sunday School attendance by 115%. Mission work both locally, nationally, and internationally became interwoven within the church's ministry, resulting in the birth of four additional campuses and partnering with others in Haiti, Uganda, Mexico, and Brazil. Skipper has served as chairman of the Church Strengthening team for Chattahoochee Baptist Association and as a member and vice president of the Executive Committee of the Georgia Baptist Convention. In addition, he taught a preaching course for two semesters at Truett McConnell University.
Skipper, 41, is the author of the discipleship tools "Resolved" and "Spiritual Avalanche" as well as "Marriage in the Red." He and his wife, Christa, have four children: Garrison, 15; Mattie, 13; Gavin, 12; and Marlee, 9. Christa Skipper is a board member of the Georgia Baptist Health Care Ministry Foundation and current president of Georgia Baptist Ministers Wives.