SPECIAL/TMU
---
CLEVELAND – The rain didn't stop Truett McConnell University nursing students and local community emergency response crews from participating in a mock disaster drill held March 31 on the university's campus.
The day began with underclass nursing students receiving moulage by volunteers to show mock injuries during the drill. These students were assigned roles with specific injuries­– including lacerations of different severities, chest pain, broken bones, and other life-threatening injuries.
Emergency Management, 9-1-1 Communications, Fire Services, Emergency Medical Services, local police departments, and Northeast Georgia Medical System were on hand to help give students the simulated feel of a real-life mass-casualty event.
During the drill, senior nursing students were brought to the scene with no prior knowledge to the type of scenario or the injuries "victims" sustained. Students were to respond to the accident using what they have learned to meet objectives including: evaluating injuries, prioritizing care and triaging patients, and effective communication.
TMU nursing student Mallorie Keel said the exercise was valuable in giving students hands-on training for a real disaster. "We were not told what the event was, but I knew we would be prepared because of our training," Keel said. "I was excited going into the drill because we got to put all we have learned to the test. My job was to care for the green triaged victims. I stopped bleeding, stabilized impairments, and assessed for further needs. I also helped EMS transport patients from the tent to the ambulance."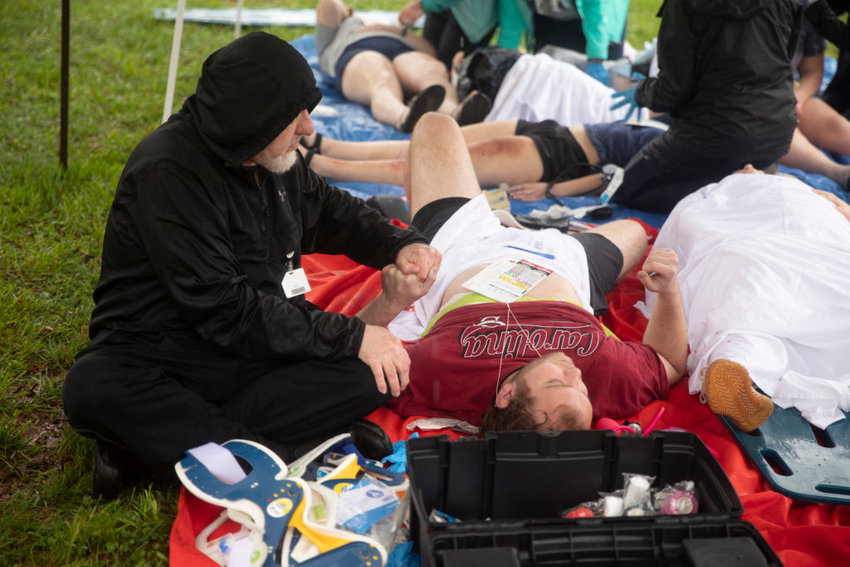 Grace Dinn, who played the role of a nurse in the yellow (delayed) zone said, "I was able to experience how first responders and medical personnel work together to save the greatest number of people with a limited amount of resources. Everyone did an amazing job working together with clear communication, critical thinking, and staying calm in order to meet every need on that field."
Tyler Burrell, who played the part of a victim said, "The senior nurses did an excellent job in categorizing patients as well as effectively handling emergency management of patients on the scene. As a junior nurse, I am very proud of them and I look up to them for inspiration to what I will become."
Leigh Ammons, TMU's Assistant Professor of Nursing, came up with the idea for the simulation, which has been planned for many months.
"I feel that all the students did a fabulous job today, especially given the weather conditions," said Ammons. "The senior nursing students did an amazing job communicating with one another as well as with the emergency responders. Likewise, they did an exceptional job triaging patients in a disaster situation and were able to assess patients with the autonomy of a nurse.
"We are extremely proud of how they handled themselves prioritizing patient care and remaining calm in a stressful situation," added Ammons.
---