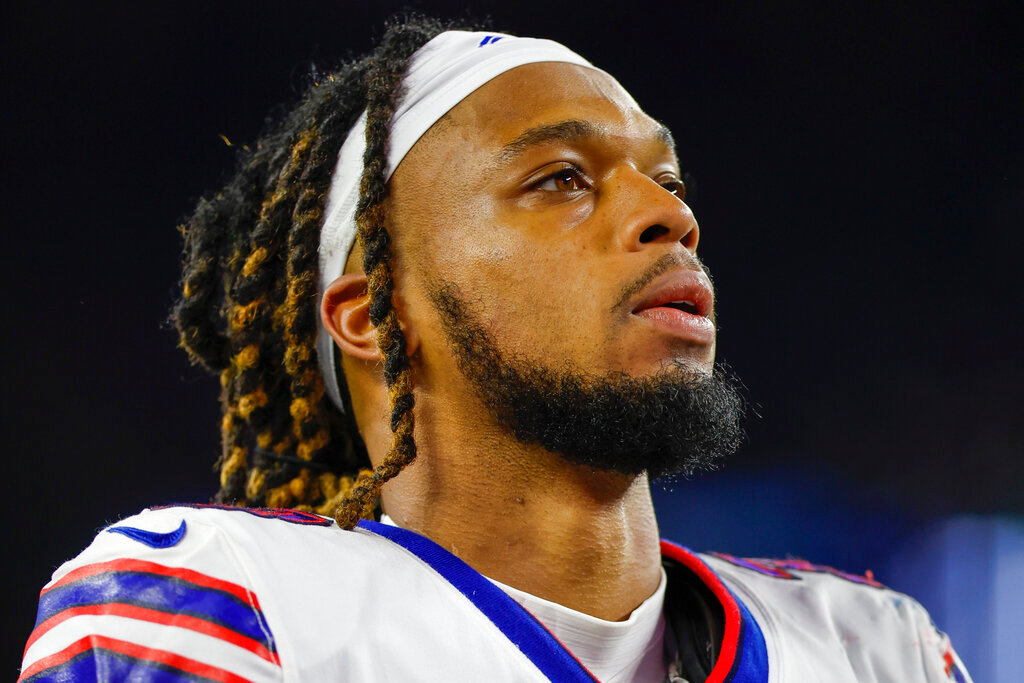 ORCHARD PARK, N.Y. (AP) — Buffalo Bills safety Damar Hamlin has shown what physicians treating him are calling "remarkable improvement over the past 24 hours," the team announced Thursday, three days after the player went into cardiac arrest and had to be resuscitated on the field. "While still critically ill, he has demonstrated that he appears to be neurologically intact," the Bills said in a statement. "His lungs continue to heal and he is making steady progress."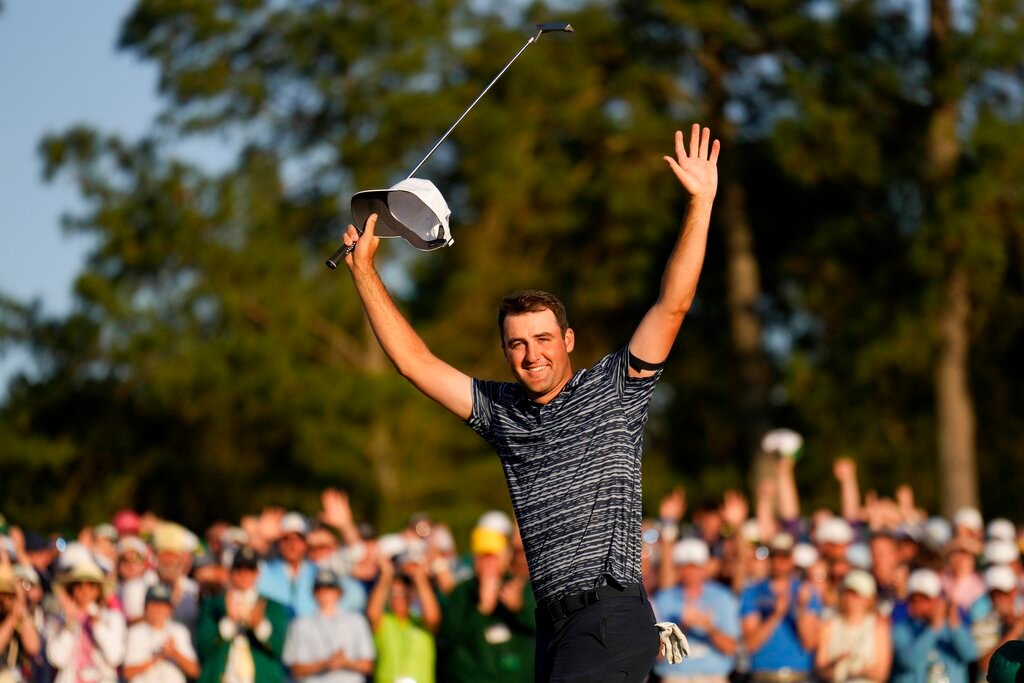 KAPALUA, Hawaii (AP) — This exclusive field of champions might be the most anticipated event of the year. And it's nowhere near the Pacific shores along Kapalua. The Masters Club is the formal name of the annual dinner Tuesday night at Augusta National during the Masters in April, and the guest list is restricted to Masters champions and Chairman Fred Ridley.
SACRAMENTO, Calif. (AP) — De'Andre Hunter and John Collins each scored 22 points and the Atlanta Hawks beat the Sacramento Kings 120-117 on Wednesday night to end a four-game slide. "Feels great," Hawks coach Nate McMillan said. "That's what we have been talking about. We have to close out games and make plays down the stretch." Collins also grabbed 12 rebounds as Atlanta bounced back after losing 143-141 in double overtime at Golden State on Monday night. Trae Young and Dejounte Murray each scored 21 points.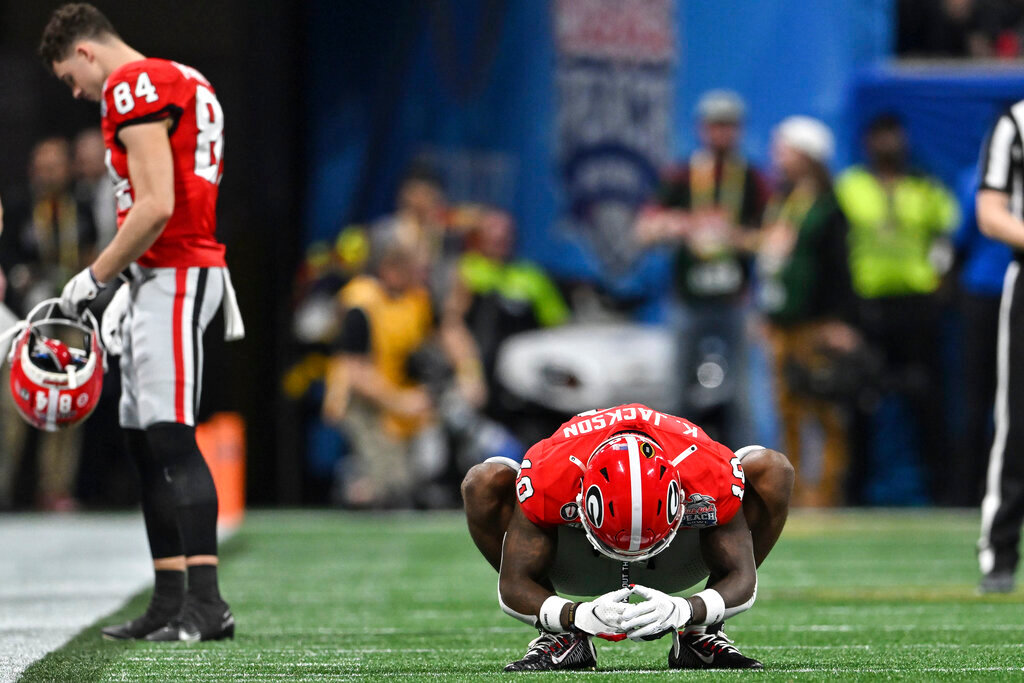 ATLANTA (AP) — Georgia's proud defense has allowed a combined 71 points in its two postseason games, including the 42-41 last-minute win over Ohio State in the College Football Playoff semifinal. Even against stiff competition in the postseason, when higher-scoring games can be expected, that's a humbling and somewhat shocking development for No. 1 Georgia (14-0) as it heads into Monday night's national championship game against No. 3 Texas Christian University (13-1).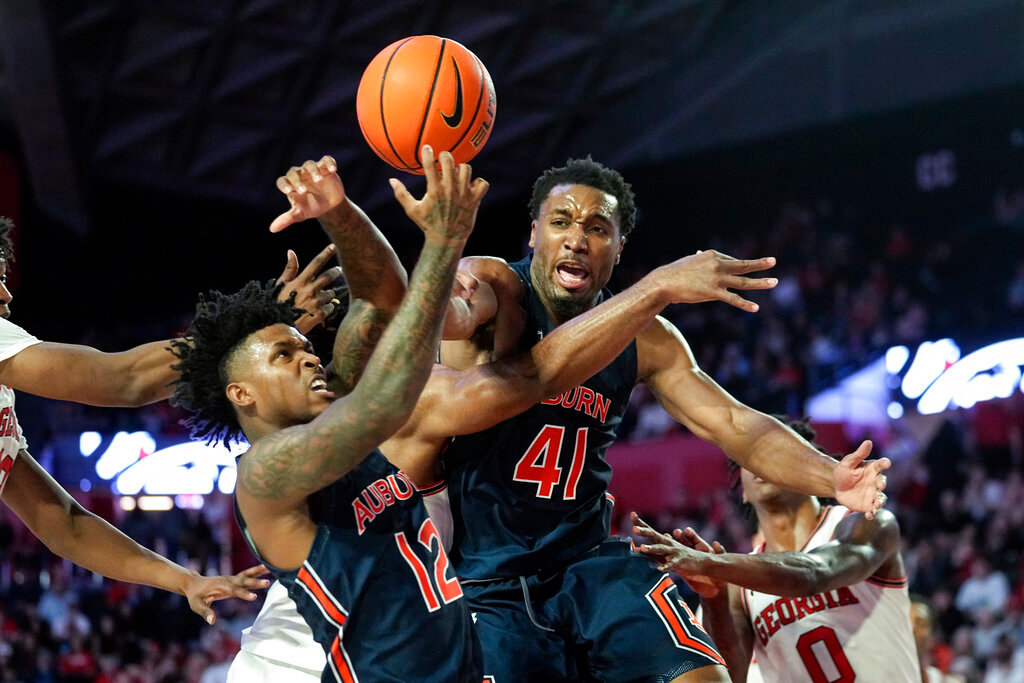 ATHENS, Ga (AP) — No. 22 Auburn's first Southeastern Conference road game provided a somber reality check for coach Bruce Pearl, who said it's time to get back to work on his backcourt. Terry Roberts overcame early foul trouble to match his career high with 26 points and Georgia made first-year coach Mike White's Southeastern Conference debut with the Bulldogs memorable by beating Auburn 76-64 on Wednesday night.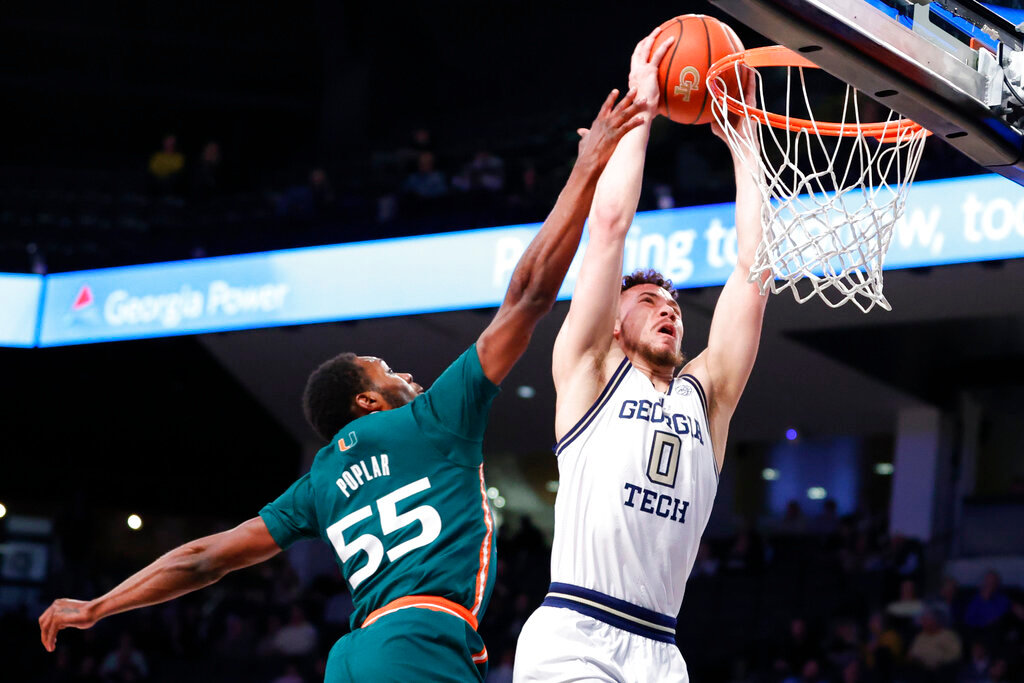 ATLANTA (AP) — Lance Terry scored a season-high 24 points, Miles Kelly added 20 and Georgia Tech snapped No. 12 Miami's nine-game winning streak with a 76-70 win on Wednesday night. The Yellow Jackets (8-6, 1-3 Atlantic Coast Conference) closed the game on a 12-0 run that ended with a pair of free throws by Kelly with 16.5 seconds remaining. That ended the scoring as Georgia Tech registered its first win over a ranked team since it beat Florida State in the 2021 ACC title game.
MACON, Ga. (AP) — Jackson Paveletzke hit a jump shot in the paint with 0.7 seconds remaining and Wofford beat Mercer 53-52 on Wednesday night. Paveletzke had 12 points and five rebounds for the Terriers (9-7, 1-2 Southern). Corey Tripp was 5 of 9 shooting o add 11 points. Messiah Jones recorded nine points.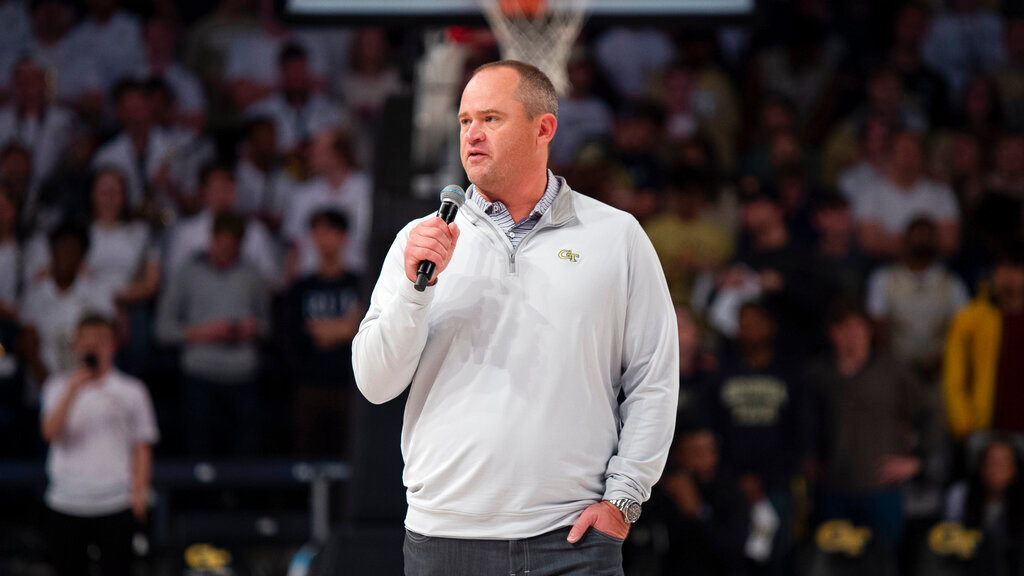 ATLANTA (AP) — Georgia Tech coach Brent Key is making a couple of more changes to his staff, announcing Wednesday that a pair of defensive assistants are leaving the program. David Turner, an assistant head coach and defensive run game coordinator, and defensive line coach Larry Knight will not be retained, Key said in a brief statement.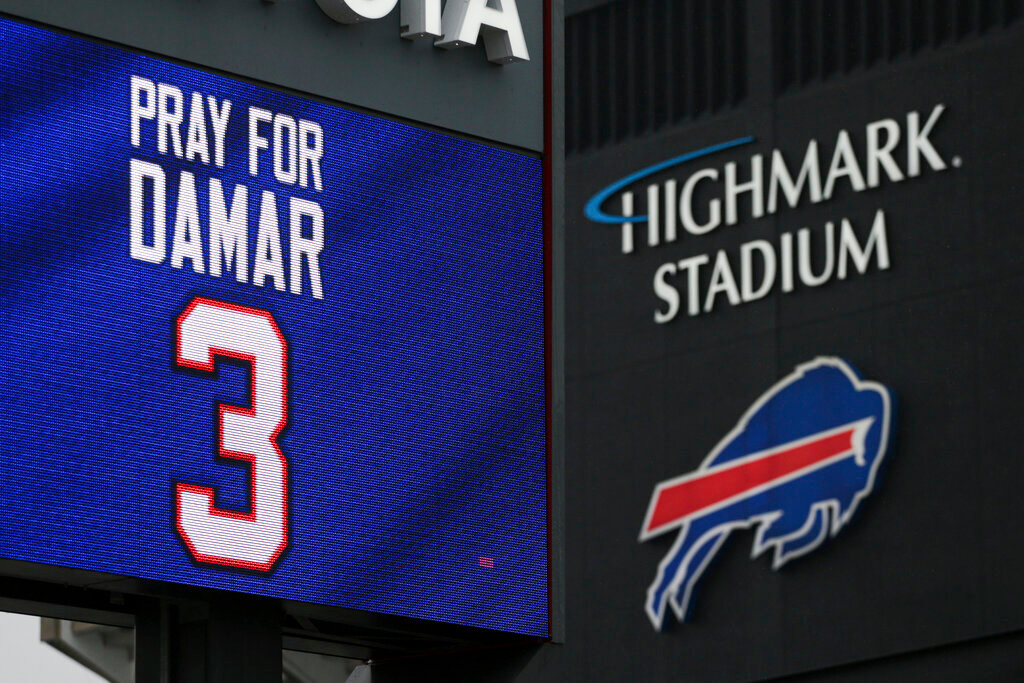 ORCHARD PARK, N.Y. (AP) — Damar Hamlin's recovery is moving in "a positive direction" two days after the Buffalo Bills safety collapsed and went into cardiac arrest during a game against Cincinnati, the player's marketing representative said Wednesday. "We all remain optimistic," Jordon Rooney, a family spokesman who described himself as a good friend of the player, told The Associated Press by phone. He said he was unable to go into further detail on Hamlin's status at the request of his family not to provide specifics.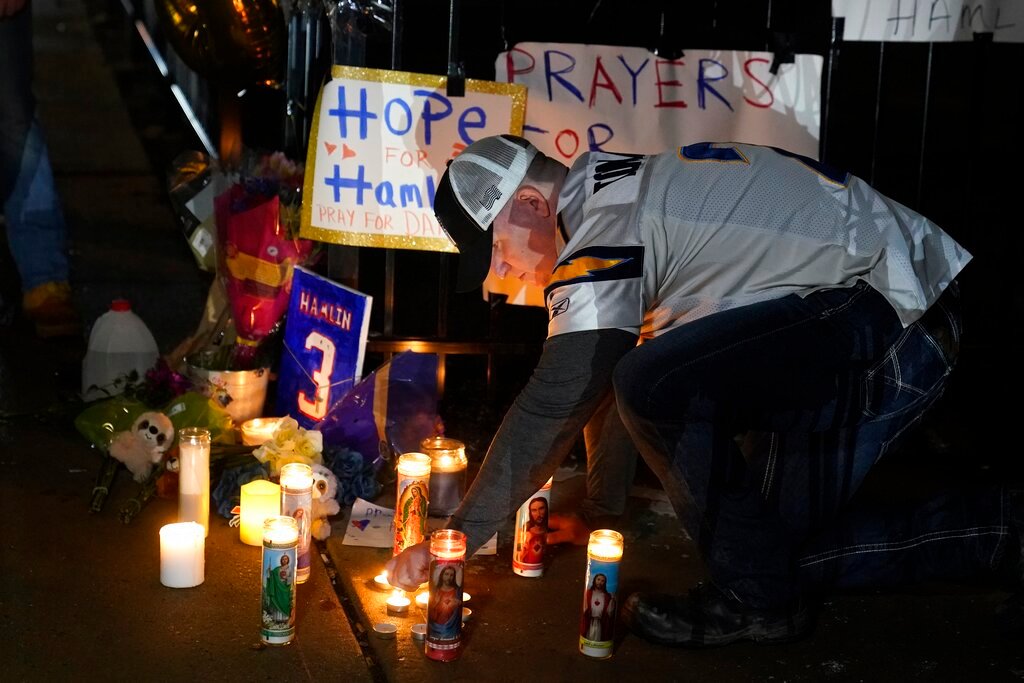 With tears beginning to well, Tennessee Titans linebacker Rashad Weaver shook his head and lowered it to his knees, his body swaying as he tried to express what it was like watching friend and former college teammate Damar Hamlin having to be resuscitated back to life on the football field. "I don't know, man," Weaver said Tuesday after sobbing uncontrollably at his locker. "I missed exactly what happened but like five seconds later, seeing the first replay of it, just kind of like everybody else sitting there and holding your breath and figure out what happened."