Stetson Bennett threw for three touchdowns and No. 1 Georgia overcame a first-half surge by Mississippi State for a 45-19 victory. With the victory, the East Division champion Bulldogs secured a spot …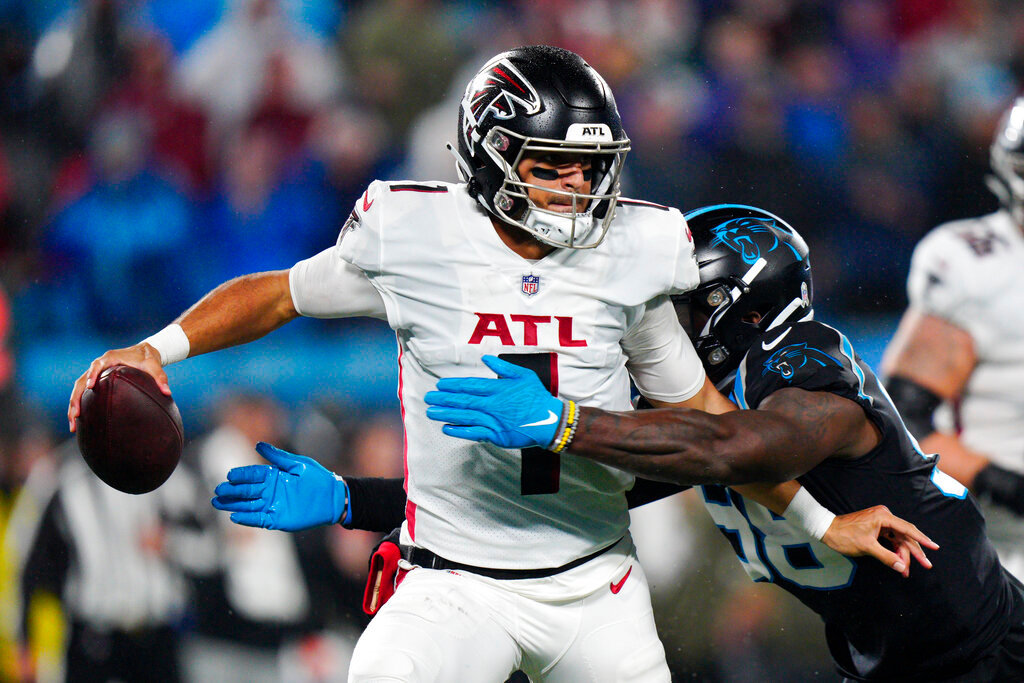 CHARLOTTE, N.C. (AP) — The Atlanta Falcons were one of the NFL's feel-good stories in the first month of the season. But the NFC South might be starting to slip away from the Falcons after three losses in four games, including a disappointing 25-15 defeat to the Carolina Panthers on Thursday night. It was Atlanta's second loss in five days after falling 20-17 to the Los Angeles Chargers on Sunday — and a game it had to have to remain in first place in the division.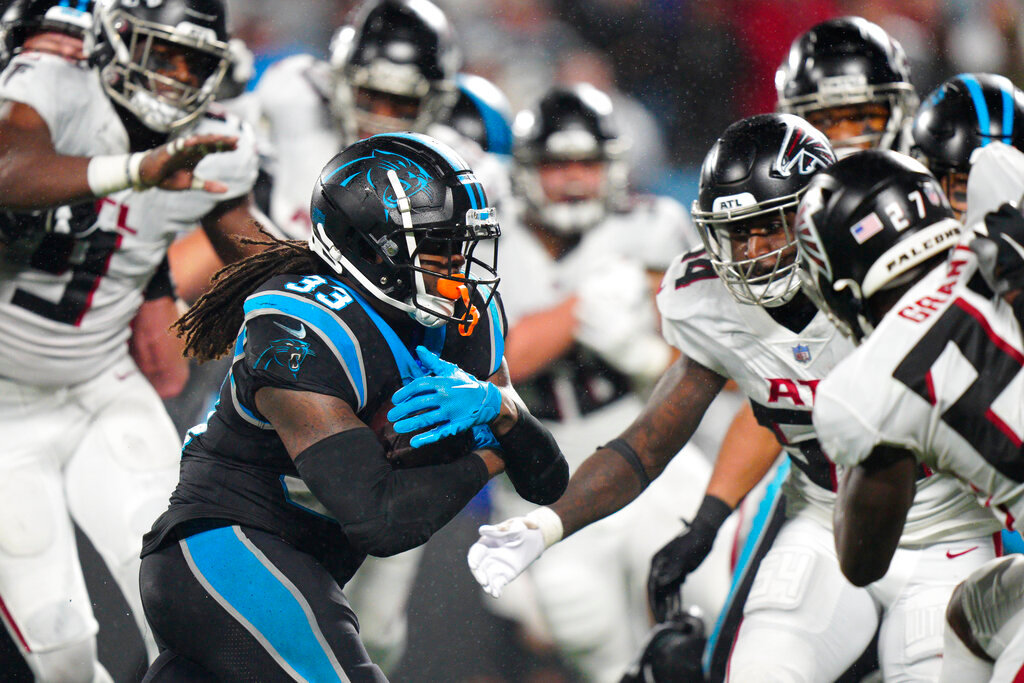 CHARLOTTE, N.C. (AP) — D'Onta Foreman carried 31 times for 130 yards and a touchdown, Laviska Shenault added a 41-yard burst to the end zone and the Carolina Panthers beat the Atlanta Falcons 25-15 on a rainy night. The Panthers piled up a season-high 232 yards on the ground, and Eddy Pineiro kicked four field goals after he missed two critical kicks in a 37-34 overtime loss to the Falcons 11 days earlier.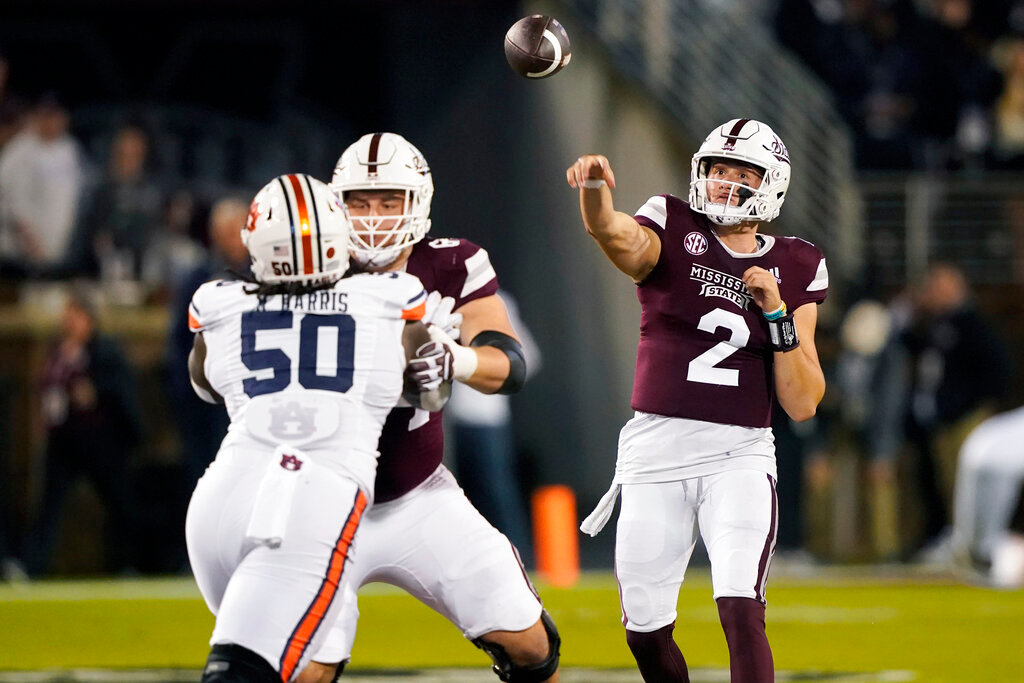 Top-ranked Georgia looks to follow up its big win over Tennessee by beating Mississippi State in Starkville. Georgia's top-ranked SEC defense will face another high-octane offense, which is led by the SEC's top passer Will Rogers. Georgia's Stetson Bennett is second, and is coming off a three-touchdown performance against the Volunteers. MSU is coming off a 39-33 overtime win over Auburn.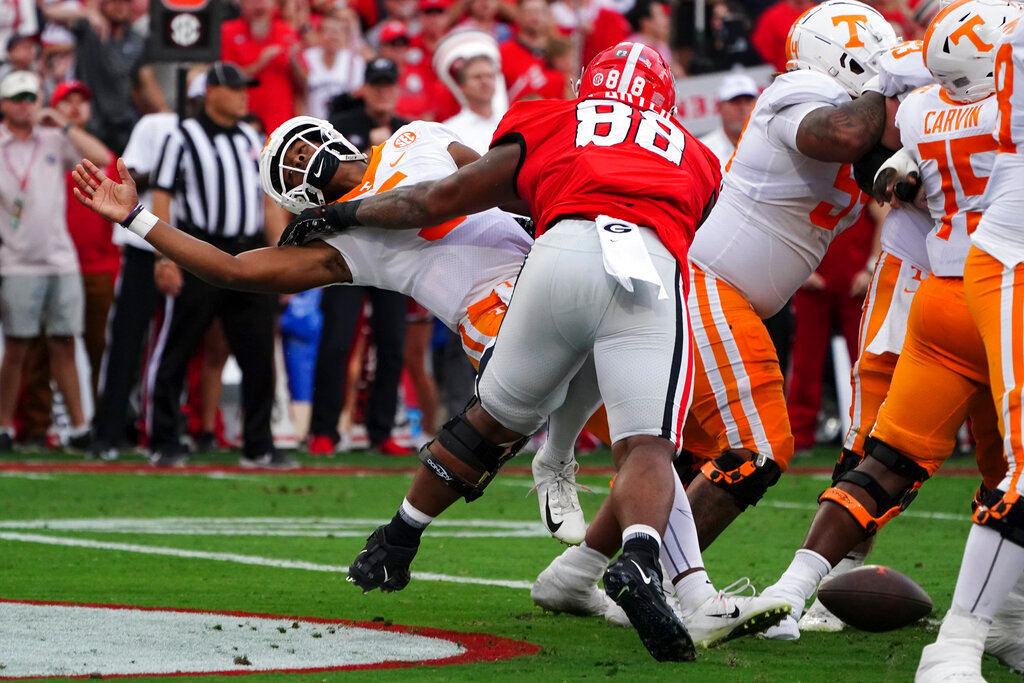 Georgia was the new No. 1 in the College Football Playoff rankings, followed by Ohio State, Michigan and TCU. The Bulldogs rise from three to one was no surprise after their dominant victory against the previously top-ranked Volunteers. Clemson, which was No. 4 in the selection committee's first rankings last week, also lost. That cleared the way for changes in the top four.
ATHENS, Ga. (AP) — Kario Oquendo scored 18 points, Frank Anselem added 11, and Georgia defeated Western Carolina 68-55 in a season opener. The win came in the debut of Bulldogs coach Mike White, the 23rd coach in Georgia's 118 seasons of basketball. Anselem's jumper with 18:40 remaining in the first half was the game's only score until teammate Braelen Bridges scored three-and-a-half minutes later.
ATLANTA (AP) — Lance Terry scored 16 points to lead six players in double figures and Georgia Tech rolled to a 93-63 victory over Division II-member Clayton State in a season opener. Terry sank 4 of 8 shots from 3-point range for the Yellow Jackets, who snapped a two-game skid in openers. Rodney Howard finished with 15 points and a game-high 13 rebounds. Jalon Moore added 11 points and nine rebounds off the bench.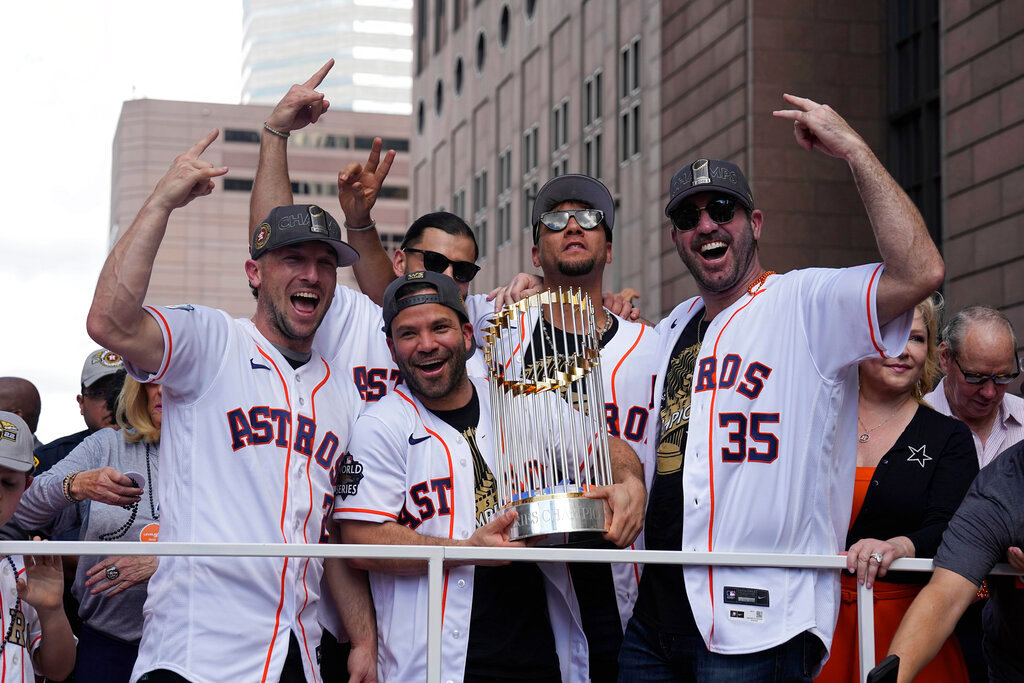 HOUSTON (AP) — Fans celebrated the Houston Astros' World Series win with a downtown parade on Monday. Houston Mayor Sylvester Turner said he encouraged fans coming to the victory parade to "arrive early, wear Astros' colors, be loud and celebrate safely."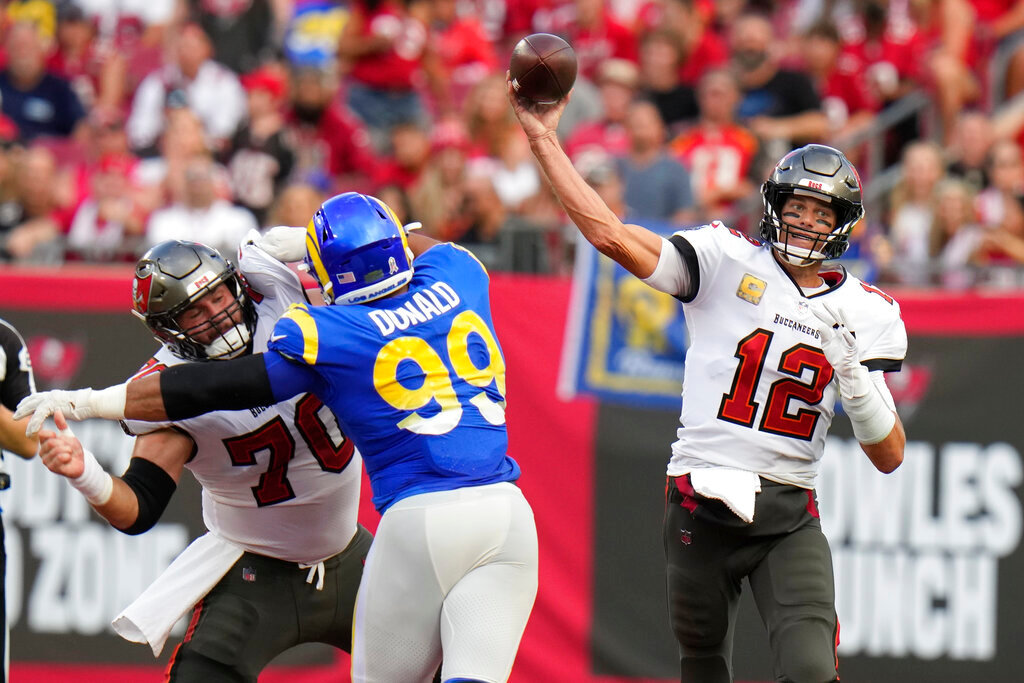 TAMPA, Fla. (AP) — Tom Brady became the first player in NFL history to throw for more than 100,000 yards, surpassing the milestone on a 15-yard completion to Leonard Fournette during the fourth quarter of Sunday's game between the Tampa Bay Buccaneers and Los Angeles Rams. The league's career passing leader entered the matchup of the past two Super Bowl champions needing 164 yards to reach a plateau the 45-year-old quarterback concedes no one would have imagined possible for him to achieve when he entered the NFL as a sixth-round draft pick in 2000.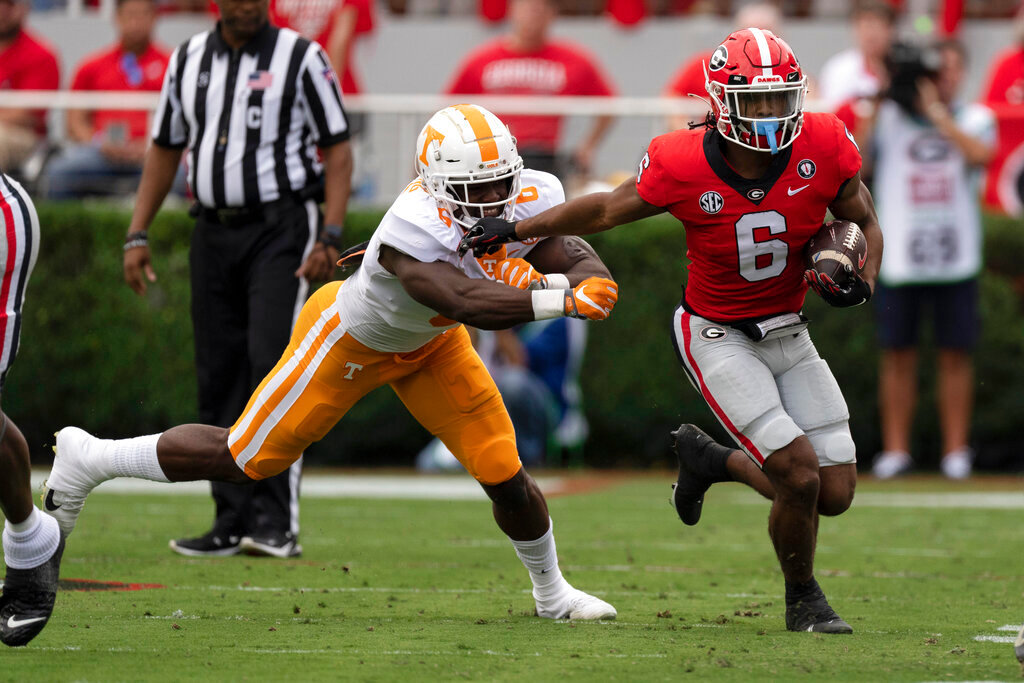 ATHENS, Ga. (AP) — Georgia leaned on its defense in winning its first national championship since 1980 last season. Georgia again is undefeated and No. 1 this season following a 27-13 win over No. 2 Tennessee. Georgia has changed its winning formula this season. The Bulldogs boast an energized offense led by quarterback Stetson Bennett to match its defense.