BRUNSWICK, Ga. (AP) — The operator of a Georgia chemical plant where a raging fire erupted in April is reimbursing fire departments for damaged equipment and overtime pay accrued battling the blaze. Glynn County commissioners on Thursday accepted a check for around $37,000 from Pinova, which produces turpine resins used in glues and other adhesives in the port city of Brunswick.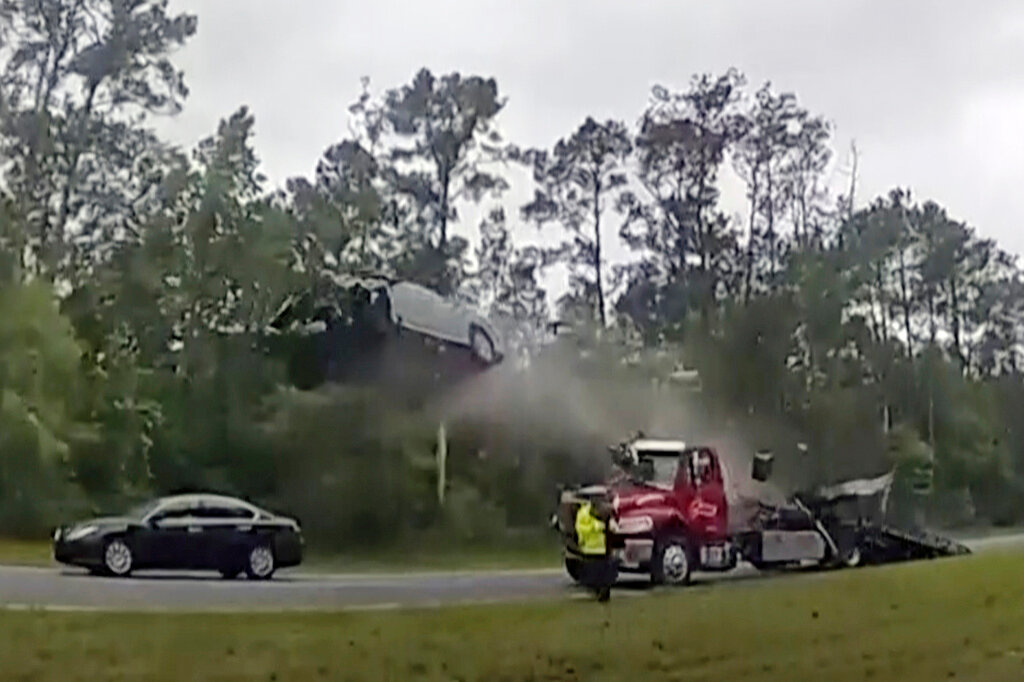 VALDOSTA, Ga. (AP) — It looks like a scene from a Hollywood blockbuster. A sedan rockets into the air after driving up the ramp of a flatbed tow truck on a Georgia highway. And the whole crash is caught on video by an officer's body camera. Shocked motorists and law enforcement watched in horror as the Nissan Altima was launched 120 feet down the highway in Lowndes County, according to a police report on the May 24 crash.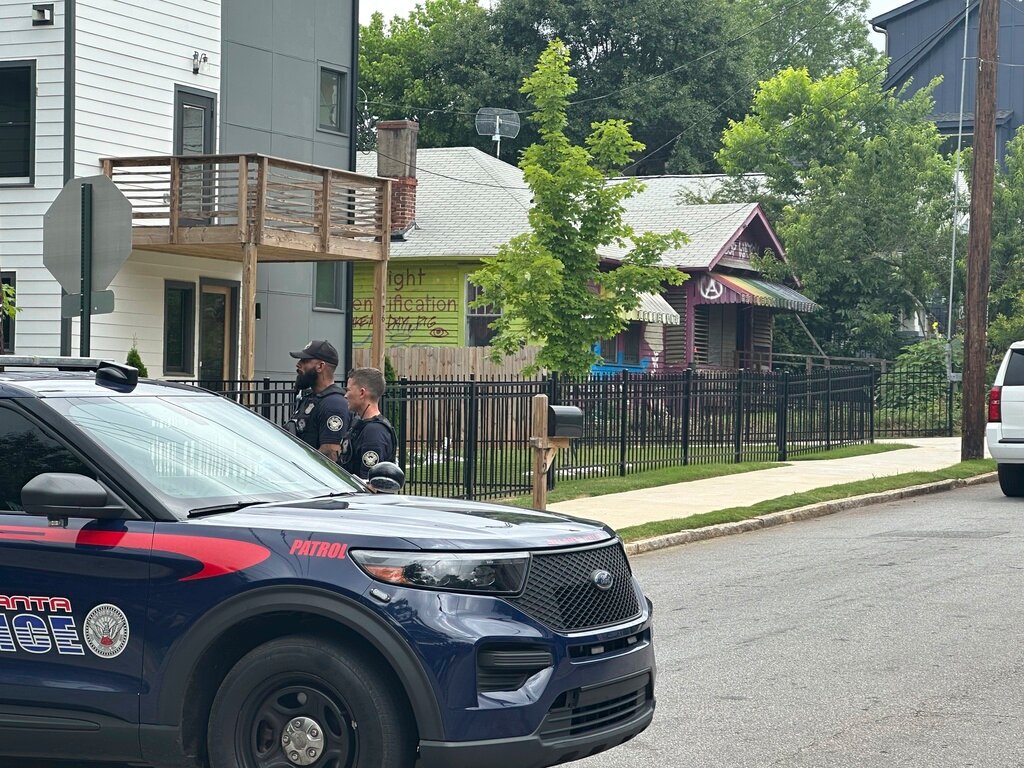 ATLANTA (AP) — Police on Wednesday arrested three key Atlanta organizers who have been aiding protesters against the city's proposed police and fire training center. The Georgia Bureau of Investigation announced its agents and Atlanta police had arrested three officers of the group that runs the Atlanta Solidarity Fund, which has bailed out protesters and helped them find lawyers. Charged with money laundering and charity fraud are Marlon Scott Kautz, 39, of Atlanta; Savannah D. Patterson, 30, of Savannah; and Adele MacLean, 42, of Atlanta.
WAYCROSS, Ga. (AP) — Finnish company Admares plans to invest $750 million to build a modular housing factory in the U.S. state of Georgia, hiring 1,400 people, officials announced Wednesday. The company plans to mass produce housing using heavily automated factories. Admares, which was founded in Turku, Finland, said it's in the process of relocating its headquarters to the United States.
ATLANTA (AP) — Georgia's highest court on Tuesday upheld a lower court ruling dismissing a lawsuit brought by five college professors challenging the removal of public colleges and universities from a list of "school safety zones" where weapons are prohibited. Before the 2017 amendment to state law, it was a misdemeanor crime to carry or possess a weapon on property or in buildings owned or leased by a college or university.
ATLANTA (AP) — A dinosaur exhibition linked to the Jurassic Park movie franchise has temporarily closed its Atlanta location after police say people broke in and caused more than $250,000 in damage. Atlanta police say they responded Monday to a burglary call at the exhibition, which had just opened Friday at Pullman Yards, an event space east of downtown Atlanta.
JEKYLL ISLAND, Ga. (AP) — Officials on Tuesday found the body of a 16-year-old boy who had been reported missing from a church camp he was attending on Georgia's Jekyll Island. Connor Mathis was found dead Tuesday afternoon, according to a statement from Jekyll Island Fire and EMS. News outlets reported the boy's body was discovered on a beach at the island's south end.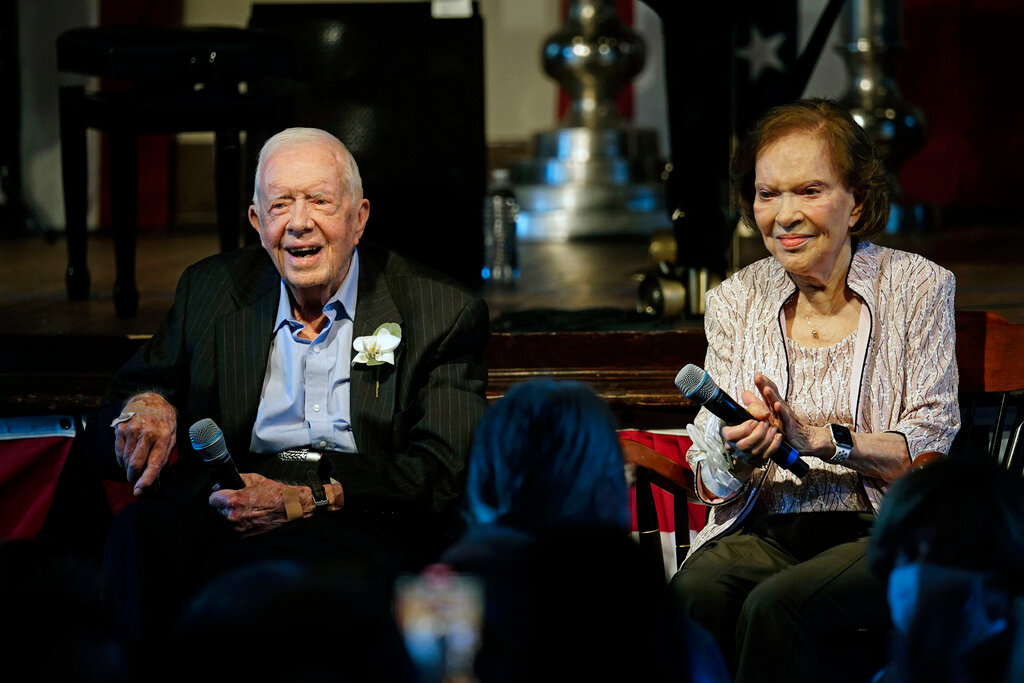 ATLANTA (AP) — Former first lady Rosalynn Carter has dementia, her family announced Tuesday. Carter, now 95, remains at home with former President Jimmy Carter, 98, who has been at home receiving hospice care since early this year.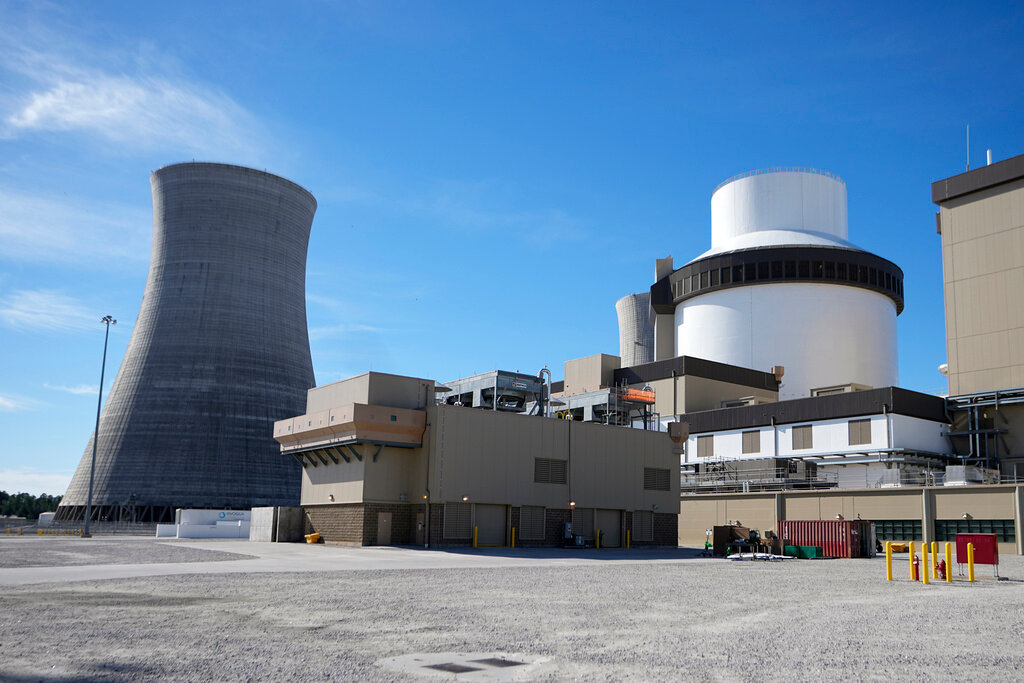 In Georgia, almost every electric customer will pay for Vogtle. Georgia Power, the largest unit of Atlanta-based Southern Co., currently owns 45.7% of the reactors.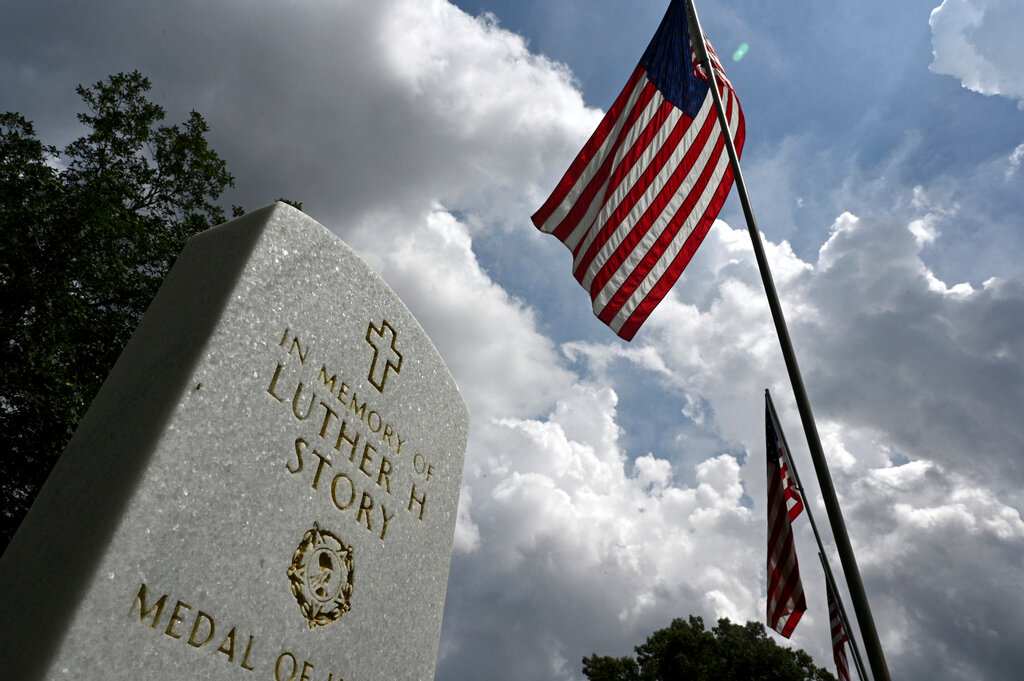 SAVANNAH, Ga. (AP) — Soldiers of the 9th Infantry Regiment made a desperate retreat as North Korean troops closed in around them. A wounded, 18-year-old Army Pfc. Luther Herschel Story feared his injuries would slow down his company, so he stayed behind to cover their withdrawal.